Send Flower Bouquet Online
Looking to send flowers to Delhi? Opt for our flower bouquet delivery and send them to your loved ones without having to worry about the hassles associated with the delivery. MyFlowerTree facilitates to send flower bouquets online with our expert florists available at your disposal. Book now!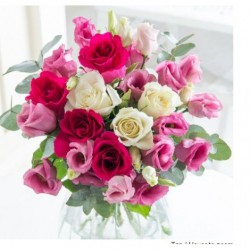 Total Products: 229
Show:
Sort By:
Send Flower Bouquet Online
Products in this category have been rated
4.7
out of
5
based on
141
reviews.
We have a collection of
20
fresh flowers design
on sale, ranging from INR
399
to INR
18,500
The celebration of Teacher's Day is always special. It is a special once in a year celebration, coinciding with the birthday of Dr. Sarvepalli Radhakrishnan, the 2nd president of India. In honor of this great person, teachers all over are celebrated and revered on this grand day, cementing the mar...Read More

Happy? Sad? Emotional? Cheerful? Excited? No matter what your feelings might be, you will always find two things around yourself to celebrate them; a Mother and Flowers! Mothers and Flowers are very similar in nature. They both are nature's gifts to mankind. They make everything look so easy. Read...Read More

We wish to be a part of all those celebrations that give us the opportunity to spend some good time with our loved ones. However, there are times when we are not able to attend an important occasion because of work constrictions or some other reason. What we can do to make up for our absence in such...Read More