Buy Holi Gifts Online
Celebrate holi by filling your dear ones' day with bright spectrum of our flowers, vibrant taste of cakes and colourful range of holi colours and gifts. Send holi gifts online to your family and friends, and fill their heart with a sudden burst of emotions with your thoughtful gifts.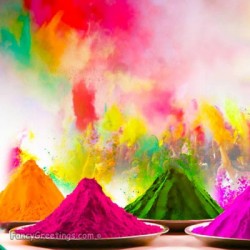 Get the best Holi gift ideas with our store
Comes the season of festivals and we all start looking for gifts for our loved to celebrate the occasion. But more often than not, we find ourselves short on ideas. There are our parents, siblings, cousins, aunts, uncles, friends and relatives to whom we want to send gift on Holi. With so many people to give gifts, of course it is hard to look for options. We thus bring you a collection that will meet all your requirements and will never let you be short on ideas.
The latest in line are our gifts for Holi. We bring you exclusive gift ideas for Holi so that you can wish your loved ones and make each of them feel special. So check out our store and get the best offers
OUR OFFERS
We bring you all the latest Holi gifts online, under one roof so that you don't need to search different stores for different requirements. From chocolate and goodie hampers to personalized Holi gifts, we host it all. For this special occasion, we have also introduced our new flower collection. Our bouquets are as colorful as the colors of Holi and bring as much happiness as the festival itself. Red, white, orange, purple, pink, yellow, we have flowers available in all vivid colors.
HOW TO GET THEM DELIVERED
Placing orders with us is easy with our user-friendly website and secured payment gateways. Just browse through our collection to choose these colorful bundles of joy and place your order. We deliver across the country with assured timely delivery. Keeping in mind that festivals drain your pockets, we have created the best priced collection that suits your pockets. Our customer support is available round the clock to address your queries at any time of the day.
Products in this category have been rated
5
out of
5
based on
110
reviews.
We have a collection of
152
Products
on sale, ranging from INR
295
to INR
2,845
Holi is a festival of colors and happiness. People play with colors, laugh and enjoy with their loved ones, share sweets and drinks, etc. However, celebrating the day with colors is not everyone's cup of tea. They like to sit in their home and have a good time with their friends, or perhaps watchi...Read More