A marriage anniversary is a beautiful journey full of love, romance, and togetherness, and wedding anniversary is a celebration of that blissful journey that you have decided to embark on with your soulmate. So, if your anniversary is just around the corner, plan a romantic surprise for the most beautiful woman in your life and while you do so don't forget to express your feelings for her through a heartfelt message.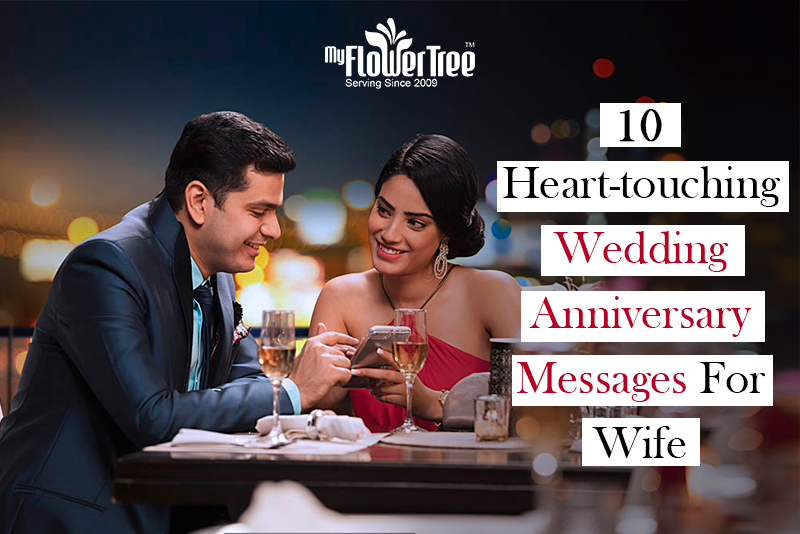 Here we are with a collection of ten heart-touching wedding anniversary messages that are worth bookmarking and sharing:
1. Dear wifey, we may not agree with each other always but what matters for me is that I love you and you love me right back. So, thank you for being there. Happy Anniversary To Us."
2. The day when you said "Yes" was the happiest day of my life. Thank you for lighting up my world like nobody else. Happy Anniversary, my everything."
3. Happy anniversary to the woman of my dreams. From the day we first met, I knew I wanted you to be my wife. Happy anniversary!"
4. I can't describe in words how I feel about you and how much you mean to me. But, all I can say is that I Love You. Happy Anniversary, Love.
5. I am the luckiest man in this world to have met you and beyond blessed to be yours. I love you till eternity. Happy Anniversary, My Beautiful Wife."
6. Having you as a wife who always stands by me and helps me out is the best feeling in the world. Happy Wedding Anniversary, My Dear."
7. Thanks for the memories you have given me from the last few years. You have given me the best memories of my life, and you are the best wife one can have. Happy Wedding Anniversary."
8. Happy Anniversary to the love of my life! Thank you for breathing life into my world and making it a happy place. I love you forever."
9. I fall in love with you every day when I wake up to see your beautiful and cute face. It makes me realize how blessed I am. Happy Anniversary, My Lifeline!
10. Another 365 days passed with the blink of an eye, and today it still feels like meeting and embracing you for the first time. Happy Anniversary My Wife.