Holi is a festival in which you observe kids running across the streets with pichkaris in their hands and their faces smeared with gulaal, and people dancing to some traditional Holi songs. And all of this is accompanied with a saccharine smell of sweets and thandai. We know how nostalgic this scene is to most of the Indians. And just by the thought of it, you will be tempted to celebrate Holi with your loved ones. But, since you have already celebrated Holi in the same traditional way all your life, it is time to give it a little twist make this Holi a little more special and memorable with some new and innovative ways.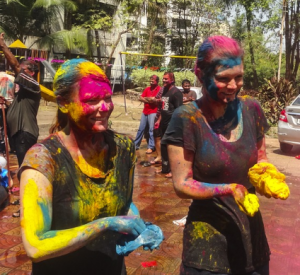 Here are a few such ways in which you can celebrate Holi and level up the festivities:
1. Host a Holi Party
People mostly celebrate Holi in their front yard or on the street, but this time you can go grand! If you wish to celebrate Holi with your loved ones, you can invite them and arrange a Holi party. Be sure that you make some thandai and have a stall for sweets. You can decorate the venue with some balloons and ribbons that will add some color to the party. You may also have a water-free zone for people who just want to have some time with their dear ones and do not wish to stay clear from the colors. If you have some kids attending your party, you can plan some fun activities for them and even have some return-gifts through which they can remember this day.
2. Call up an Old Friend
Holi is a festival that promotes friendship and harmony. So, if you happen to have a friend with whom you once shared a great bond but have now lost touch, this is the day when you should call up your buddy and let all those grudges fade away. You can invite them over and celebrate Holi with them. If that's not possible, you can send them some Holi gifts online and convey your feelings through this little gesture. You can get them a photo frame or a get a Holi special cake delivered at their doorstep.
3. Organize a Photo Shoot
Holi, being the most colorful festivals, certainly deserves a bunch of pictures. But since those colors can harm your camera phones, it is suggested that you organize a professional photo session with all your loved ones. You can have a dedicate spot for such activities and even have some props handy that will brighten up your pictures a lot more.
4. Celebrate Holi with the Lesser Fortunate
We usually spend this day with our friends and family members. But have you ever thought of celebrating this auspicious day with the people who don't even a family? Yes, we are talking about the people who are left in the old age homes by their own children, the orphans and other lesser fortunate people who might have never celebrated any festival. But this time, you can bring in a change and visit these people and spread happiness to their lives. You can get some gulaal, sweets, chocolates, and some presents for them which will make this day a memorable one for them. These tiny presents might bestow them with a lifetime of happiness. Moreover, with a smile on their face, you will be able to realize how noble your actions were and how much difference such little deeds can make.
5. Go Green
Since we all know that a lot of harmful chemicals are used in the Holi colors, it is time to boycott such products and stick to the traditional and natural gulaal. Gulaal, being one of the most organic colors, makes for a great pick for Holi. Also, Gulaal is a lot simpler to rinse off and does not leaves any stains on your skin that may cause irritation or any kind of allergy. So, this Holi if you wish to celebrate Holi in a different way, you should go green.
These were some of the ways in which you can celebrate Holi with a whole new vibe and ideology. Whether you wish to celebrate with your friends, family or anyone else, make sure that with each greeting you spread a lot of happiness, love and positivity across. We hope that with all the aforementioned ways, you will be able to make this day a lot more colorful and vibrant, not only with your colors, but with your warmth and affection.