Having someone whom you can call your friend is one of the best blessings ever. Knowing that someone will always stand by your side and will support through thick and thin is a great feeling. While a friend would have celebrated the happy times with you, a true friend is the one who has seen you in your worst. They are the ones who chose to stand by your side and helped your fight against all odds. Such bonds deserve not just love but honour as well.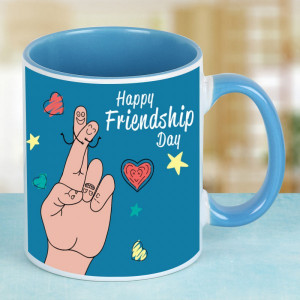 And to celebrate your friendship with your pal, here are some fun ways in which you can make the most of this Friendship day:
1. Plan a Sleepover
A slumber party is the best way to spend some quality time with your friend. So, wear your comfy pyjamas and get ready to experience an adventure with your buddy. You can enjoy a meaningful chat that will help you grow closer to each other. You can also spend the night watching TV, cooking new dishes, dancing to your favourite tunes, singing old songs, or fighting with pillows. And why not! The last thing you would do on a sleepover is to sleep. However, you can present your friend a personalised cushion that will act as a memento of this time.
2. Binge-watch Your Favourite Series
They say that people tend to grow closer to each other while eating meals together. But another way to strengthen your bond is by watching your favourite content. We are sure that you and your pal would have a number of TV series and movies that you can watch over and over again. So, grab this opportunity to relive those moments and recreate some memories with your friend. Also, do not forget to order some snacks beforehand so that you can enjoy your movie without any hunger pangs.
3. Celebrate With Some Delectable Desserts
One of the best ways to celebrate any given occasion is by snacking on some scrumptious sweets. And what could be better than a cake to commemorate your bond with your pal! So pick up your favourite cake and some other desserts like cupcakes, donuts and chocolates that will help you make this day a lot more flavourful. Also, you can present your buddy with some of their favourite delectables and snacks that they cherish later.
4. Give your Buddy a Makeover
Another way to celebrate friendship day with your buddy is by unravelling their best version. You both might know each other for years, and while there are some things that you adore about one another, there would also be some things that you would want to change. And this is the perfect day to do the same. You can order some stylish accessories, or grooming stuff for your pal and give them a makeover. By doing this, you will be sure that your buddy looks their best on this special day and is ready to attend the party that you are going to throw later tonight. Also, with this new look, your friend will be able to sway away all the guests at the soiree.
5. Capture These Moments Forever
As friends, you would have shared some of the most memorable times with each other. And on this day, you must capture all such moments so that you can cherish them all your life. You can even hire a photographer who can click some of your candid moments. And by combining these pictures, you can create a collage. You can then get these pictures framed and present them to your friend and we are sure that this will be one of the best friendship day gifts for your BFF.
Friendship is one of the most beautiful bonds and we hope that these fun ways will help you celebrate this relationship in the perfect manner. Also, we hope that you and your pal will be able to weave some amazing memories while experiencing such fun activities. Apart from this, we would advise you to pick some exquisite and thoughtful presents for your buddy that will help you make this day a lot more remarkable.