Love is certainly the most celebrated emotion of all times. And this is one emotion that has the power to make you smile on the silliest things, cry for no reason, and laugh until your stomach hurts. If you have ever had such experiences, congratulations, you are in love! And now it is time to tell the entire world about it. But wait, you need to confess your feelings to your special someone first.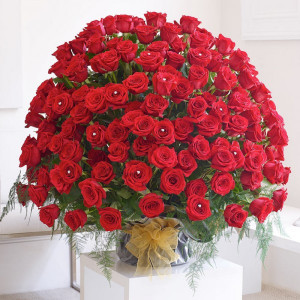 And since you would want to make each bit of this moment special, here are some ways that can help you pour your heart out to your beloved in the best way possible:
In order to express your profound feelings to your beloved, you ought to present them with a gift that is as special as your emotion. And a giant teddy would serve as the best present! You can also get a teddy with a love quote inscribed on it. This will help you convey your love towards them in the most effortless manner. Also, since these soft toys are one of the most huggable presents, your lover can cuddle with them whenever they miss you. This is the best present to help them feel that you are always around them.
Present them a Bouquet of Thousand Roses
If you wish to confess your love towards your beloved and also want to make this as grand as possible, you should get a huge bouquet of roses for your partner. Ranging from ten to even a thousand roses, your bouquet can be as huge as you want it to be. And we are sure, that with just a mere glimpse of this miraculous beauty, your partner would be highly impressed by all the efforts you have put in to get this bouquet to them. You can easily order a bunch of flowers online in Chandigarh, Mumbai, Delhi, etc. To make this a lot more special, you can get some chocolates that will satisfy your lover's sugar cravings!
Love can be best expressed through songs. And it can even better if you are the one singing it for your partner. You can either write your own song or a poem that lets you express your truest feelings to your partner. Since these will be your words, you will be able to tell your partner as to how much they mean to you. If you wish to add some music in the background, you can even hire a guitarist that will give life to your lyrics. While the guitarist does his job, you can sing for your loved one and express your love. Also, if you are not a great singer, you can make a mixtape of some of the most romantic songs and gift to them.
Take them for a Lavish Feast
Another way of conveying your feelings to your loved one is by taking them to a luxury restaurant. Here, you can treat them with some exotic cuisine and some delectable desserts. While your loved one is having a great time having their favourite food, you can plan to surprise them by expressing your love. You can take up this opportunity to present them a beautiful necklace or any exquisite jewellery piece. Also, you can order a cake online and get free delivery in Chandigarh, Mumbai, Delhi, etc. You can also ask the staff members of the restaurant to play your loved one's favourite song while you express your emotions to them.
Present them a Hand-made Card
While all of the above-mentioned presents can be bought with money, there are some things that money can never buy. Thus, presenting a hand-made card to your partner will help them realise how much love you carry for them in your heart. You can write some love quotes that would help them realise their true value. And it does not matter if you are a great artist or not, all you need to be is expressive in your words in order to help your loved one know how much you love them.
We hope that these ways will help you convey your love to your dear one effortlessly. Also, we wish that your loved one has mutual feelings for you.