Stumped for things to do on Father's Day? Don't worry, this article covers some great ideas for you to celebrate Father's Day that won't break the bank. You can find plenty of ways to say, "Thank you Dad!" without overspending.
Irrespective of who the father figure has been in your life, he probably doesn't get thanked enough. The reason why Father's Day is such a great reminder for you do just that. This day of the year is dedicated to thanking the father figure of your life for all the sacrifice, work and encouragement he's poured into you.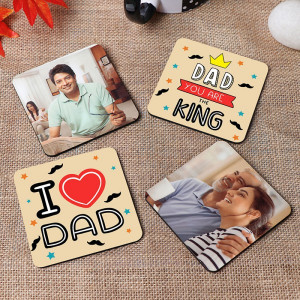 Have a look at these 5 spectacular ideas for you to add joy to the celebration of Father's Day:
1. For the Dad who enjoys extra Quality Time:
Make a list of the activities that he enjoys and rejoices. If he's a sports guy and enjoys playing them; go for a round of golf, organize a cricket game, challenge him to a one-on-one basketball game, or take a family hike in the great outdoors. If your dad is a History buff? Go find the historical sites in your city and take a historical trip and make memories that you will later cherish in the years to come. Does he enjoy movies? Make sure you sit down with him and watch his favorite cinematic flick. Also, don't forget the popcorn!
2. For the Dad who appreciates something Creative:
If you are good with your DIY skills, try and decorate something like a t-shirt, a baseball cap, his favorite sports team jersey or a coffee mug to express how you feel about him being a constant pillar to you. Don't all dads take pride in flaunting and displaying his kid's handiwork? Go, create something that fills him with pride.
If you think you're not creative enough, you can still put forth some DIY effort to let him know you care. Consider preparing a photo collage, a scrapbook or a slideshow from the dear memories you shared with him throughout the years. You could include photos of you when you were little and your dad in his younger days! Make sure you give him a tight hug if you see him tear up even a little.
3. For the Dad with a Vintage Soul:
If your dad has an affinity to vintage things, take him hunting for a treasure that will remind him of yesteryears. You'd be absolutely amazed at what can turn up at a good yard sale, a flea market or an antique store. You can also look for an old game he used to play as a kid, a vintage hat, or even some vinyl records of his favorite bands.
4. For the Dad who loves random acts of Kindness:
Give your dad a break by taking somethings off his to-do list for the week. Help him with some yard work, declutter the garage, or clean the grill. If you see he's working on something around the house, ask him to rest and you take charge!
If he is the chef of the house, try turning the tables and cook him his favorite meal. Or maybe he's the type who enjoys some good old-fashioned peace and quiet time. Gather up a few kids and spend some quality time with him out of the house to give him time for resting and relaxation.
5. For the Dad who likes Surprises:
If your dad enjoys surprises, prepare some personalized gifts for your Dad. You could place an order for customized cuff links, custom pens or even something like an office briefcase with his initials. These are sure to bring a smile on your father's face.
The moral of the story is that you don't always have to give your dad a fancy tie or a brand-new grill. Sometimes the best gift to celebrate a happy Father's Day is to just express how much you appreciate him and how grateful you are for all the support he has provided you with. As most dads say, a simple "thank you" goes a long way.