Choosing flowers and placing an order online can be a little tricky for some people and they often wonder whether it will be worth it. One of the prime reasons why most people are skeptical about buying flower online is the lack of knowledge. Besides, people can avail discounts and attractive offers if they choose to buy online. So, it is really important to be familiar with the things to get the best experience.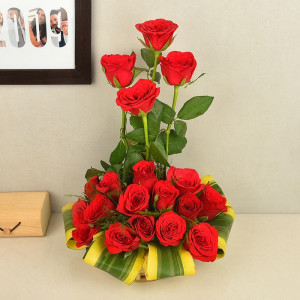 This blog post acquaints you with some important tips so that you know how to send flowers online:
It is very important to understand the occasion and the person you are buying flowers for. Choosing the right flower will help you to show your feelings in the best possible way. So, you should choose and send flowers with the right meaning so that you can easily convey your feelings. If you are picking flowers for your friends, choose the yellow or white color, but if you want to confess your love with someone special, you should go for the bunch of red roses.
Select the Most Reputed Online Flower Store
While a brick-and-mortar local flower shop requires you to leave the comfort of your home to search for the flowers, an online portal allows you to find the best flower arrangements within less time and money. However, it's vital to choose the best online shop after going through the reviews and seeing the reputation of the store. Remember, a store offering low prices does not always guarantee the quality product. So, choose carefully!
Once you are done with shortlisting the flower stores online, now it's time to make a price comparison. Do check other websites and compare the prices of your selected flowers. Make sure the total cost includes the box, vase, and container. There are several forums and discussion sites where you can find sufficient details along with reviews about the best online flower store; visit one and make a good choice.
You must also know that some flower arrangements are custom-made while some are already available. You should understand what kind of arrangement is suitable for the occasion and the receiver so that you can easily make your purchasing decision. A good website would have a wide catalog of floral arrangements with an extensive range of flowers to meet each buyer's needs. Of course, you get attracted to beautiful and aesthetically appealing flowers. You should keep in mind that the top online florists will offer vital information about every bloom they offer. This will aid you to get insights and knowledge about diverse floral arrangements, available in the market. Choosing the right floral arrangement is of utmost importance.
Round-the-clock Customer Service
Make sure to choose a store with excellent 24/7 customer service. A good online store always ensures that its customers find a cooperative, knowledgeable and seasoned team of customer care executives. A good customer service team will help you keep track of your order. You should always look for this criterion whenever you are going to order flowers online so that your buying experience becomes memorable.
So these aforementioned tips can help you to clear your doubts on how to send flowers online. In addition, you should remember to place your order as early as possible for any special event or celebration. You can find the best deal by looking for the coupon codes and best offers online.