For Indians, the festival is synonymous to celebrations. We wait for special occasions and make arrangements to celebrate them in the grandest way possible. With the onset of the spring season, we love to get drenched in the colors of love and togetherness. Yes, it's about the Holi festival, which also has religious values associated with it. It commemorates the victory of good over evil. People love to celebrate it with colors, smearing Gulal over the faces of their loved ones and sharing gifts for Holi. Not just in India, this festival is celebrated by Indians living in different countries all over the world.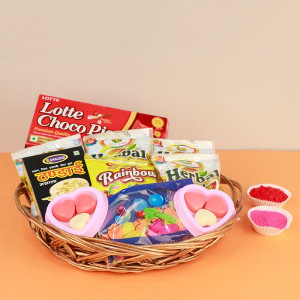 Almost everyone loves to play Holi in different ways possible. If you want to do something unique on Holi this year, here are five Holi celebration ideas you can follow –
1. Have an Eco-friendly Holika Dahan
A Holi-related ritual is to celebrate the triumph of good over evil in the form of huge bonfire lit on the streets. Holika Dahan is celebrated by burning Holika, which is a pyre made of wooden logs. Holi celebrates the killing of Holika by Vishnu in order to save Prahlad, who was a devotee of God Vishnu.
But thousands of trees are cut down to get wood logs for this ritual. To save the environment, you can think of performing Holika Dahan in an eco-friendly way. Buy fewer woods for this ritual, but arrange more cardboard, coconut waste, and cow dung cakes. Also, you should make others know about this eco-friendly way to perform Holika Dahan to save the environment.
2. Play with Organic Holi Colors
Without colors, Holi celebrations will feel incomplete. But it is not good to play it with colors that can cause harm to your skin. Some cheap, low-quality Holi colors are also available in the markets that have harmful chemicals in them. They can cause skin allergies and rashes. To be on the safe side, avoid buying them at all. Instead, buy organic Holi colors which are made of leaves, flower petals and bark of plants.  They won't do any harm to your body.
3. Plan a Holi Party
Holi festival comes with an opportunity to meet old friends, relatives, and loved ones. It becomes even special when you get to meet them all after a long time. To spread togetherness, plan a Holi party for them all. Be creative when you design the Holi party invitation and send them to all your loved ones. Send invitations digitally through WhatsApp or Messenger. You can even create an event page at Facebook and invite people for it. The more the people visiting your Holi party, the better!
Along with it, you want to make sure that all the attendees will have fun during the Holi party. So, have the Holi playlist ready to make them all dance and enjoy the party greatly.
4. Think of Holi Treat for the Taste Buds
To delight all your guests who visit your place for Holi celebrations, you can think of arranging lip-smacking delicacies. Snacks like Kachori, Namkeen, Papad, Mathri etc. are very popular for Holi. Similarly, you can have Holi Special Mithai, such as Gujiyas etc. arranged to celebrate this festival. This is something that all your guests will love. Without delicious eatables, Holi party may seem incomplete. So, make it complete by buying all these snacks and mithais online or from a local store near you.
5. Buy Gifts for Kids and Other Loved Ones
Other than playing with colors and enjoying Holi sweets, you want all your loved ones to feel great during the celebration time. With gifts, you can make this happen. For kids, you can buy water-guns or pichkaris, water balloons etc. which they can play with. For adults, you can think of buying sweets or a cake to say 'Happy Holi' when you visit their places. With Holi gifts, you can even think of restoring strained relationships back in form.
Celebrating Holi in the most natural way possible is better than anything else. These are just some of the popular Holi celebration ideas you can follow. Happy Holi in advance!