We need to talk about Rasmalai Cake. Although, we're not sure when this cake came into the scene, most certainly, it is one of the best baking discoveries that brings a sense of contentment to the heart on any given day. According to The Diner's Dictionary: Word Origins of Food and Drink, the term comes from Hindi raś that is 'juice', and malai which is 'cream.' With time, Rasmalai has taken various forms. You can find them in ice creams, chocolates, cakes and so forth.
Being one of the most popular desserts in India, it is usually a part of celebrations like birthdays, anniversaries and other festive and celebratory events. To bring a twist, there's also an introduction of Rasmalai cake to revive the scrumptious Indian taste and also, make a shift from the regular cake flavors.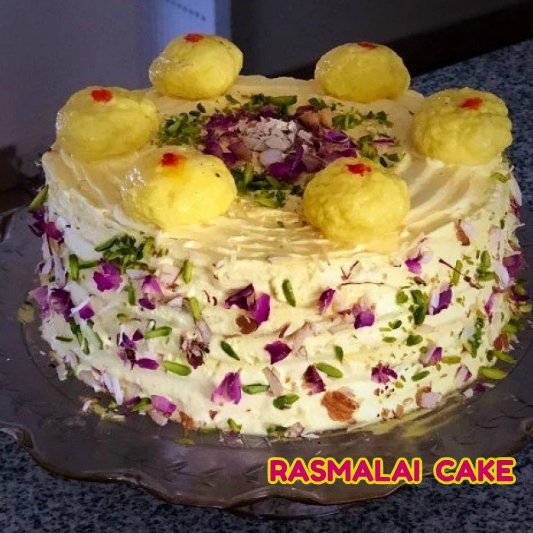 If you are still in the fence why you should make it a part of your celebrations, we have not just one, but seven reasons to prove how this is sure to perk up your occasion. Know them:
1. The Taste of Nostalgia
Rasmalai has a long known history when it took its first forms in the kitchen of the kings. So, the dessert is one of the oldest in the known history and has managed to stay top in the list of delicious desserts till date. So, if you decide to make it a part of your celebration, say, your parents' anniversary, the Rasmalai cake is sure to take them back to the good old days of childhood when Rasmalai was a part of almost every and probably, was prepared at home too.
2. The 'Desi' Factor
Rasmalai is an Indian dessert. While there is a shift in gifting culture with international flavors coming into a scene; we believe, it is always best to celebrate Indian festivals with Indian flavors. So, include Rasmalai cake in your festivities and proudly deck your plate in the delish desi style.
3. It Got Fans
You can hardly find people having a dislike for something so delish as Rasmalai. So, for sure, it is still widely popular. So, if you think it will be a herculean task to find Rasmalai cake in Delhi or any other place where you want to send the flavourful cake, you are wrong. It is easily available and much sought after.
4. Doesn't Mess with Your Diet
Rasmalai is known to have low salt, low sugar, high mineral, and high calcium content. Saffron in Rasmalai is known to curb cancer cell growth by sending them apoptosis signal (signal of cell death). Dry fruits in the dessert are a good source of antioxidants. The benefits remain the same when baked into a cake as well.
5. It Is Light
Rasmalai cake is a light and airy dessert. Since, the ingredients are not much and heavy, as it only involves milk, dry, fruits and saffron apart from the basic baking ingredients, the cake is light to eat not just on occasions but during the usual days of craving as well.
6. Exudes Love & Patience
Rasmalai as a dessert and even in the form of a cake requires a lot of patience to be prepared. So, if you want to put your baking skills to test, you would not do it unless it's for someone really special. Even if you wish to pamper someone in a special way, you can opt to order Rasmalai cake near me for quick delivery and a quick apology.
7. It Is Undoubtedly Delicious
There could be several reasons to order a Rasmalai cake, however, one of the top reasons will always remain that it is delicious. The intense, rich and creamy taste is something that can be savored time and again, with each time the craving reaching a step higher.
So, relish the delish Rasmalai cake and make your celebrations blissful with its nostalgic flavors!