A wedding anniversary is the most special day for a couple. It is a reminder of the day you both decided to spend life with each other, through easy and tough times, and be together, no matter what happens. And each anniversary is a sign that your love has grown over the years and your bond strengthened. This makes fairly obvious that on the day of your wedding anniversary, you would want to make the day super special for your partner.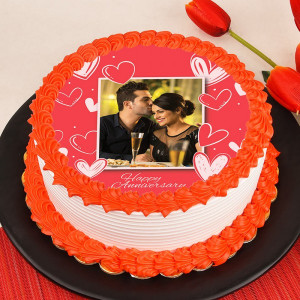 Here are some romantic ways in which you can do that:
1. Cake
Every celebration calls for a cake. And so does your wedding anniversary. A special happy anniversary cake that both you and your partner will love will be perfect to begin the celebration. You can even buy a customized cake and personalize with a photo you and your partner deeply cherish.
2. Write a Letter
The reason you and your partner have been together is because you love them and they love you. And although you may talk every day, you may not have told them everything, especially, about that time when they showed hope and trust in your when no one else did. Write about it. Thank them. And tell them how much you truly love them. There is no better gift that expression raw emotion of love.
3. Make a Mixed CD
If words are not your best tools and writing your forte, then perhaps you can make them a mixed CD. You can burn it with songs you like, songs your partner likes, songs you both side, songs you danced on your wedding, songs that played in your head when you first them. There are plenty of songs to choose from, and each one of them is a romantic gesture.
4. Recreate the First Date
For every couple, their first date is always one of the special ones, if not the most special. You look back at it with the sense of nostalgia. You got to know each other for the first time. Perhaps it was awkward, and perhaps it was not. But you had the excitement of getting to know the person who just might be your life partner. And who, at that time, knew you two would actually be together. When you recreate the first date, you can experience that sense of excitement, that bit of awkwardness, and this time you will go home knowing that you will see this beautiful face again, and every day forever.
5. Watch your Favorite Romantic Movie
Every couple has their own favorite romantic movie. It is special them for their own personal reasons. And this is what will romantically make the day super special. You can have a comfortable movie night and watch it while being in arms of each other. And as you remember, you will remember the reasons this movie is so special for both of you. This is an elegantly romantic way to spend your wedding anniversary.
6. Do Something New
Another thing you can do, if you are feeling a bit artsy, is attend a single-day workshop to do something creative together. You can attend a pottery class, or something else craft to get your creative juices flowing. By partaking in an activity, which is new to both of you, and spending time together will further strengthen your bond. This is one of the best ways you can celebrate your wedding anniversary. And it will be super special for your partner as well.
7. Plan a Weekend Getaway
If the date of your wedding anniversary this year falls on a weekday, does not mean you cannot go on a weekend getaway. Just plan it for the following weekend or one before. We all live a stressful and hectic life because of our work, and a small getaway is always a welcome to relieve some of the stress. Getaways like this are always special for a couple. Plus, you will get to spend time alone with your partner away from all the hubbub of the city that you are used to.
Wedding anniversaries are special for a couple and both of them wants to make the day special for their partner. Hopefully, the aforementioned suggestions have been helpful and you will now plan a good romantic way to celebrate your wedding anniversary.