International Women's Day is just round the corner and no other day can be better than International Women's Day to appreciate the women in your life. We are surrounded by women; women who are inspiring, women who are strong, women who are working hard. How often do we appreciate them, or maybe acknowledge their sole presence? We may often thank and appreciate our mothers, sisters, wives, but hardly have we spared moments to thank our women colleagues. The professional relationship that we have at work with our colleagues doesn't always let us express our thoughts to our colleagues, especially, women colleagues.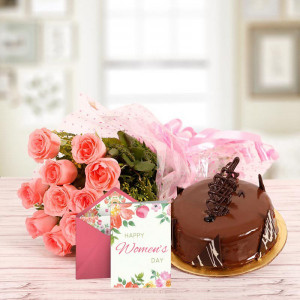 However, this International Women's Day, you can go ahead and let your women co-worker know how much you respect their support, their guidance or assistance at work. If you are confused as to what gift you should buy for your women colleagues, then here are some creative and unique Women's Day gift ideas that you can try out:
1. Let it Blossom
Nothing can outshine the beauty and grace of fresh flowers. There are so many species of flowers that you can choose from such as Asiatic Lilies, Gerberas, Roses, Marigolds, Daisies, Daffodils, Chrysanthemums, and Carnations, etc. You can either go for a bouquet, or you can also give them a single flower, wrapped in cellophane. Tell them that you respect them and that you acknowledge their hard work with a flower on Women's Day.
2. Gift of Nature
After flowers, green plants can be another good choice of Women's Day gift. A small indoor plant is rather a unique gift and the receiver won't be expecting it, so it will be a good surprise for them. Plus, it will help them keep their desk pretty and green. While they can water it regularly, this will be your way of telling them that you wish for their growth and prosperity.
3. Something Sweet
Sweetness always works! If your co-worker has a sweet tooth, then nothing can better than something sweet. You can either go for chocolates, or you can get them some savoury Indian sweets, such as ladoos, kaju katli or soan papdi. Add sweetness to your professional relationship with something sweet.
4. Or Some Bling
Jewelry can be one of the choices if you think they like to wear them. You can go for quirky silver ornaments, gemstone studded fancy jewelry or something minimalistic. Whatever you choose, do keep their personal style in mind. You do not have to go for silver or gold, you can buy the latest artificial jewelry, such as a sterling silver earring, bracelet, minimal pendant, or a stone studded choker.
5. Just a Cake Walk
Now if you wish to make it a grand gesture, then you can go for a cake and celebrate the International Women's Day in the honour of all your women co-workers. You can easily order a cake online, and it will be delivered to your workplace. It will be a heartfelt gesture from your side, and your co-worker will surely feel great to have you as a co-worker.
6. Nutty Delight
Dry fruits can be one of the most thoughtful gifts. A handful of cashew nuts, walnuts, raisins, pistachios, and figs regularly can help them have their fill of essential nutrition. To add to the joy of the occasion, you can also buy a bouquet of orchids with the dry fruits. You can go for dry fruit combos available online and offline.
7. A Cup… Mug of Joy!
Office hours are incomplete without a mug full of espresso. You can gift them a personalized mug and see them enjoying their coffee every day. A cup with their photo on it or maybe with inspirational quotes written over it will make them even happier.
Although mere day cannot be enough to acknowledge and appreciate the presence of women in our life, be it our mother, sister, wife, friend or co-worker, but it surely can be a wonderful opportunity to express your appreciation. This International Women's Day, try and make it special for all the women you know.