The greatest testament of love is your grandparents. They are the best example of how love can last for long time and it only strengthens over time. Your grandparents are the oldest members of your family and have stayed together for the longest time. So if you are looking for how to have a long-lasting loving relationship, they are the right people to give you best guidance. But other than that, their wedding anniversary is the best celebration. It shows how much they love each other and how it has kept them together through all crests and troughs of life. And on their wedding anniversary, they deserve thoughtful gifts.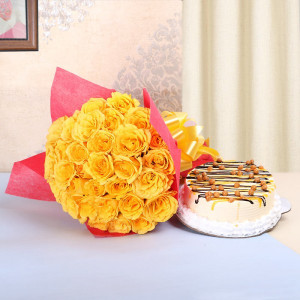 If you are looking for such gifts, here are some ideas:
1. Personalized Cake
If you are planning to celebrate any occasion, if it does not have a cake then the celebration will be dull. And you can make the celebration all the more special by personalizing the cake. You can do it by choosing the best photo of your grandparents that they cherish. This will make their anniversary special.
2. Write a Letter
Another rather thoughtful gift that you can give to your grandparents is to write them a letter. In the letter, tell everything you want to. Tell them how much their presence means to you, how much they have inspired you over the time, how they have been a source of support over the years. Whatever you have in your heart about them, write it beautifully in a letter and give it to them. Better yet, read it.
3. Make them a Card
You can also choose to be a bit on the creative side by making them a beautiful card. You can bring out the creative side of you and try to make the card as beautiful as you can. You can write a small note, make a collage of pictures. There are multitudes of things you can do to make a thoughtful gift for your grandparents. And since it is made by you, your grandparents will cherish each page of the card.
4. Sing a song for them
If you are deft at any musical instrument, then you can even a sing for them. A small intimate gig at home is all the love they will need. All you have to in preparation in know about their songs and then learn to play it on the instrument you play and sing along with it. Even if you can't sing along, everyone else present in the room will be singing. Next thing you know you'll be having a musical night at home.
5. Take them out for a dinner
A sweet way to make the day special for your grandparents is to take them out for a dinner, with the whole family. In our hectic schedule, we rarely give quality time to our family. It's not that we don't want to, but are unable to because of work and other things. So, one of the best gifts you can give them is take them out for dinner and spend quality time with them.
6. Buy a Plant for them
Giving plants implies giving someone a responsibility of life. Your grandparents have looked after your parents and all of their sibling, and even you and your cousins. So there can't be better two people in the world for whom this gift would be the best. They will look after it just as they have looked after everyone else their whole life. And convenient part for you is that you can buy plants online.
7. Recreate their First Date
Obviously your grandparents must have met someday before deciding to spend their life with each other. So you can recreate their first date and make them feel nostalgia. It will be like going decades back and relive that excitement they felt when they first met. If they met each other for the first time parents, then you can have fun and create two families within and have fun. This will be funny and everyone at the family will have sweet time of it.
So when you are planning a special surprise for your grandparents' wedding anniversary, keep these points in mind. And while you are at it, buy some chocolates for them online to add a bit of extra sweetness to the occasion.