The arrival of Shravana month, the arrangement of sweets and other delicacies in the sweet shops, and the availability of a wide variety of Rakhi threads in the local and online markets drop enough hints that Raksha Bandhan is around the corner. And with this, sisters start warming up themselves to begin their hunt for the perfect rakhi and gifts for their brothers.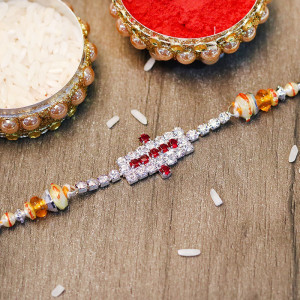 So, this year again with Raksha Bandhan approaching in a few days, if you are yet to begin your rakhi shopping, take a guide with the following tips that will help you in choosing that one perfect rakhi for your brother:
1. Consider His Age & Style
The first thing that you need to keep in your mind before you start your rakhi shopping is your brother's age and style. As a sister, you know your brother better. You know what kind of things he prefers and will love to welcome this Raksha Bandhan. Considering your brother's age, style, taste, and preferences will ensure you in choosing the right rakhi and gift for him.
2. Find Out What He Secretly Wants
Another way of making sure that the rakhi you will buy for your brother will surely be loved by him is by finding out what type of rakhi your brother secretly wants. Whether he wants a fancy rakhi or a minimalistic designer rakhi or a bracelet rakhi, just try to read his mind what kind of rakhi is he expecting from you this year.
3. Know the Meanings of Each Rakhi
As you know there are various types of rakhi available in the market with different meanings, it's important for you to know what each rakhi means.  For example, a sandalwood rakhi is for those who have sensitive skin or who are prone to any kind of allergy. An evil eye rakhi is believed to keep away all the evil things away from a brother's life.
4. Prefer Online Rakhi Shopping 
Rakhi shopping can take long hours of strolling at the market in the scorching heat where you end up coming home exhausted and wasting almost a day. So, this year, why don't you save your time by doing your rakhi shopping online?
5. Buy Rakhi From a Renowned Rakhi Store
So, find out the best online rakhi store in your city or country to order a rakhi for your brother from the comfort of your home. Online rakhi shops also provide you with a wide range of rakhi options, you can also send a rakhi online to your brother staying miles away from you.
6. Set Your Rakhi Budget
With the availability of a wide range of rakhis in the market, the price of the rakhis has also got higher accordingly. So, before choosing a rakhi for your brother, set your budget to ease up the process of rakhi shopping for your brother.
7. Pair Up the Rakhi with A Gift
Now that you have finally picked a precious rakhi for your brother, don't forget to add a thoughtful gift along. There are various types of rakhi gift combos available online like rakhi with sweets, dry fruits, chocolates, cakes, personalized mugs, cushions, wallets, and many more. So, pick a useful gift for him that he will happily welcome on Raksha Bandhan.