"One marked feature of the people, both high and low, is a love for flowers!" said Robert Fortune. As flowers are eternal, they have been and always will be earthly anchors for mankind that keep him connected to the beauty of the natural world. From the time people owned independent houses surrounded by quaint little flower gardens, to now having to live in a 2 or 3 BHK steely condo set against a bleak cityscape where space is the biggest issue in your everyday life, how do you add flowers to your life?
Flowers as Home Decor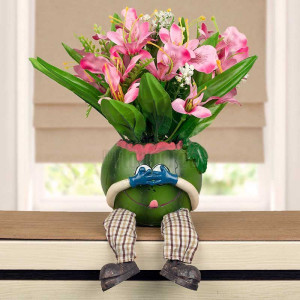 It is a common thing for people to fill their living spaces with eclectic pieces of art as home decor to complement their furniture, which all becomes a part of their style statement. Flowers in general or floral themes have always been a popular choice when it comes to home decorations. Flowers can be found on
home decor items
that range from lavish paintings, tapestries and murals to be hung on the walls to designer decorative pieces of sculpture finished in terracotta or porcelain where flowers can be potted or placed. Today, you will find many options as how to decorate your home with flowers, be they real or artificial, as you can place flowering plants outside on your terrace, indoor flower plants like orchids and other exotic species, or simply get choice flowers delivered online to decorate on your tabletops, it is your call to make. Why flowers are so loved? Let's check a few of the reasons how flowers make our lives better...
1. Reduces Stress and is a Sensory Delight
Flowers are great in every way possible, as they are like an automatic stress buster. Imagine you reach home and drop into your recliner, and next to you there is a bunch of fresh roses welcoming you home. Without being able to help yourself, there will be a smile on your face.
2. Your Home will always smell Fresh and Positive
Flowers all have very distinctive and unique fragrances that lighten up everyone's spirit. When arranged and placed properly, the perfume will fill up your house better than a room freshener ever will. And good things happen around places filled with good vibes.
3. Flowers make you Healthier
This is one of the reasons, why friends and family carry flowers when they go to visit someone at a hospital. Flowers help you physically and mentally heal from painful operations or ailments by mentally elevating your willpower, spirits and creating a positive ambience all around you.
Unique Ways to Decorate your Home with Flowers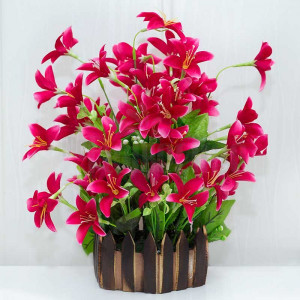 Coming to the point, Here are 7 Unique Ways to Decorate your Home with Flowers- 1. Common everyday flowers such as roses and jasmine often make an appearance in most homes in India. However, you can experiment with these flowers, such as you may put white roses in water mixed with some food coloring and watch the roses reflecting your colors, which will be a unique thing in itself. 2. Exotic flower varieties such as peonies, tulips, hydrangea blossoms, amaryllis stalks make excellent decorative arrangements which can be placed in bunches inside glass vases filled with water. 3. Place wilting or dying flowers like rose petals, marigold blossoms, chrysanthemum blooms and lotuses in a wide metal or ceramic bowl filled with water. They will live for a long time and will have a very oriental appeal. Placing them near the doorway is another suggestion. 4. Utilize old utensils and scrap tin cans or discarded pots, and plant them with low-maintenance wildflower varieties, and hang them or place them outside your windows. Here you may even take an initiative to start a full-fledged herb garden. Read up a little about herbs as Thyme among a few other herbs bloom year long. 5. If you have minimal, aesthetic inclinations and do not wish to go overboard with floral decorations, you may place a simplistic ornamental plant, such as an orchid or bonsai, or flower-shaped succulent as your living room centerpiece. 6. If you have a spare bathtub or discarded washbasin, you may utilize it to create a small pond to have all sorts of water plants in it. 7. At the end, regardless of where you live, if you want to fill your living space with some flowers, you are enabled to do so with either of the above-mentioned styles.
Flowers
are available in all sorts of colors and types, ordinary to exotic, sometimes getting flowers to decorate your house it doesn't cost you a thing!