Holi is not just known to people in India as the festival of colors, but also of merriment, zeal, festivity, and togetherness. They eagerly wait for this occasion and plan to celebrate it like never before. While some people follow the traditional custom of visiting their closed ones on Holi, others organize Holi parties in open spaces and invite their loved ones. Being one of the biggest Indian festivals, Holi is celebrated by people of all ages. Children love to play with pichkaris, while the adults give more importance to share blessings and love with their loved ones on this colorful festival. In between all this, the essence of this festival lies in the camaraderie that happens during the celebration time.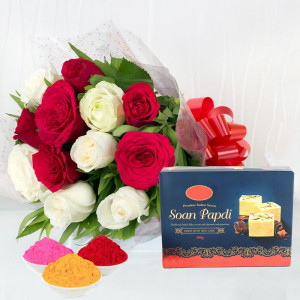 Other than the loud cheers of laughter, colors in the air and bonding that happens over it, Holi can be made special by buying and sending Holi gifts online or offline. Here are some impressive Holi gifts you can buy for your loved ones-
1. Holi Gulal Packets
You want all your loved ones to celebrate Holi with extreme enthusiasm. To convey your good wishes and to spread love, one of the most relevant Holi gifts you can buy are packets of Gulal and other herbal colors for the celebration time. Unlike other festivals where you generally think of buying fanciful gifts for others, packets of colors are perfect for Holi and can be easily bought online. Make sure you buy herbal Holi colors which are safe for the skin.
2. Pichkaris or Water Guns
No wonder, your children must be waiting for you to take them to the local markets to buy water guns of different kinds for Holi. They also love playing with colors in their own childish ways. To fulfill their desires in a surprising way, buy pichkaris for them as a Holi gift. Even if you won't be with your children this Holi for work reasons, you can still send these Holi gifts online to them through renowned gifting portals.
3. Skin Care Products
Everyone loves to play Holi, and get their faces and body colored to look ugly. But most of the people hate the tiring task of getting that color off their skin. It may even become difficult for them to take good care of their skin while playing Holi. One of the best ways to show you care is to buy good quality skin care products for your loved ones, especially girls or women. A cosmetic hamper will definitely prove to be a wonderful token of love to be shared during the Holi festival.
It's generally hard to consider the utility of a gift during Holi celebrations. But you can do that by choosing this gift for your loved ones.
4. Delicious Gujiyas
Holi festivities are not just about playing with colors, but also about serving your taste buds with yummy delicious gujiyas. Around this occasion, you must have found your family members working hard to cook Gujiyas at home. Similarly, the local sweet shops are all filled with yummy gujiyas as well as the crowd of customers who want to buy them. To delight your loved ones on Holi, buy gujiyas for them all as a Holi gift to win their hearts.
5. Other Mouth-watering Indian Sweets
Colored smashed happy faces and Gujiyas go hand in hand when you talk about Holi. But that does not mean you are limited to just Gujiyas to fulfill your cravings for sweets during Holi celebrations. You can buy Laddoos, Barfi, Soan Papdi, and similar other Indian Mithais to delight your loved ones. If you are busy at work or in making arrangements for the Holi party, there is nothing to worry about Holi Mithai shopping. Buy them through online gift shops or send them as Holi gifts online to your loved ones. A box full of delicious sweets is an awesome gift you can pick.
The idea of buying and sharing Holi gifts is quite unique in itself. So, pour in this uniqueness to the usual ways of Holi celebration to ensure that all your loved ones enjoy this festival to the most.