Do you know Gurupurab will be celebrated this year on 12th November and it is going to be a global celebration? Yes, the Government of India and its citizens are to celebrate Guru Nanak Dev Ji's 550th birth anniversary grandly by inaugurating some of the Indian missions abroad and within the nation.
Before we jump into the details of the planned global celebration of Guru Nanak Ji's 550th birthday, let's unfold a few important chapters from our History to know about the significance of Gurupurab.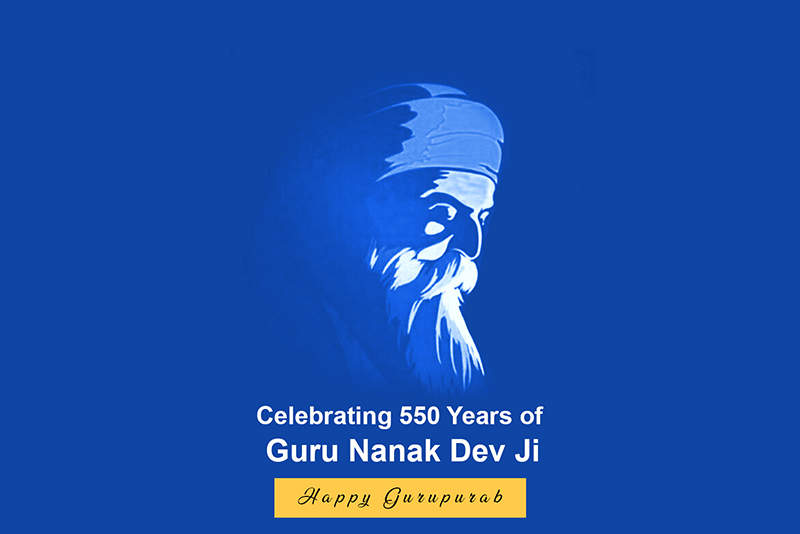 Gurupurab or Guru Nanak Jayanti is celebrated across India and the world to commemorate the birthday and teachings of Guru Nanak Dev Ji, the founder of Sikhism. According to Sikhism, it was Guru Nanak Dev Ji who brought enlightenment to the world through His teachings of love, peace, equality, and brotherhood.
The 550th birth anniversary of Guru Nanak Dev Ji is extra special because it was planned a year ago by the Government of India in association with people from different communities keeping aside their religious differences and coming together to celebrate love, peace, and unity.
So, here are all you need to know about the 550th birthday celebration of Shri Guru Nanak Dev Ji
Celebrating Religious Harmony with The Development of Kartarpur Sahib Corridor
Signifying the true essence of unity in brotherhood, the development of the Kartarpur Sahib corridor was approved by the Government of India and Pakistan to allow religious devotees from India to visit the shrine of Baba Guru Nanak Dev in Kartarpur, Pakistan. Well, the inauguration of the Kartarpur corridor is quite a historic moment that will always be an example of religious victory to be remembered forever.
Celebrating the Reverence for Nature by Establishing a Heritage Complex at Sultanpur Lodhi
The significant town of Sultanpur Lodhi, associated with the life of Shri Guru Nanak Devji shall be developed as a heritage town on the smart city principles as a major attraction for tourists and pilgrims. Also, an exhibition showcasing the life and teachings of Guru Nanak Dev Ji would be organized for devotees visiting from across the world, and the Sultanpur Lodhi railway station will be upgraded with all the modern amenities.
Reconnecting with His Teachings by Establishing Centre for Inter-Faith Studies in Foreign Universities
A centre for inter-faith studies will be set up at Guru Nanak Dev University, Amritsar along with one University each in UK and Canada. Also, an international seminar on the life and teachings of Shri Guru Nanak Devji will be organized in New Delhi.
Global Celebration of Love, Peace, and Unity by Organizing Special Events
Indian missions will organize special events to celebrate the 550th birth anniversary of Shri Guru Nanak Dev Ji in overseas.
Commemorative Coins and Stamps to be Released to Mark the Occasion
The government of India issued coins and postage stamps to commemorate the 550th birth anniversary of Baba Guru Nanak, marking the opening of the Katarpur Corridor for the Sikh pilgrims on 1st November 2019.
Religious Activities to be Organised throughout the World
Gurudwaras have always sheltered every faith under its roof, be it at the time of a terrorist attack or a natural calamity. They have always welcomed and served people from everywhere, signifying one of the important principles of Guru Nanak Ji which says; "Sarbat daa bhala- Goodwill for all". Hence, religious activities like Kirtan, Katha, Langar, etc will be organized throughout the country on 12th November 2019.
Publication of Gurbani in Different Languages
The National Book Trust will publish Gurbani in different Indian languages in India and UNESCO is requested to publish Shri Guru Nanak Dev Ji's writings in world languages. Also, Doordarshan shall telecast programs on Shri Nanak Dev Ji.
A Special Train for Pilgrims Seeking the Blessings of Guru Nanak JI
The Indian Ministry of Railways will run a special train passing through the various Holy places associated with Shri Guru Nanak Dev Ji for pilgrims and tourists.
At last, we would like to conclude by saying that we totally buy PM Modi's comment on Guru Nanak Dev Ji's 550th birthday celebration which says; "Guru Nanak Dev Ji not only belonged to Sikhism but his ideas are a heritage of the entire world and humanity".