The festive season is here! Yes, Raksha Bandhan is just around the corner! The festive of Raksha Bandhan comes along reminding brothers and sisters of the special relationship they share. And the perfect time to pray for wellbeing and happiness of each other and to celebrate the eternal bond of the sibling. The great way to celebrate Rakhi 2020 would be with the carefully curated Raksha Bandhan gift hampers. Gift hampers are the most popular and unique personalized rakhi gifts ever. So, on this Raksha Bandhan, pamper your sibling with a gift hamper and watch them break into a hug.
Rakhi is all about making each other happy and feels special for every brother and sister. But if you are not together, you can send rakhi online along with this gift hampers to your beloved brother and makes the day more memorable. Have a look at the exciting gift hampers to make this special day stand out for all the right reasons.
Rakhi with Box Of Chocolates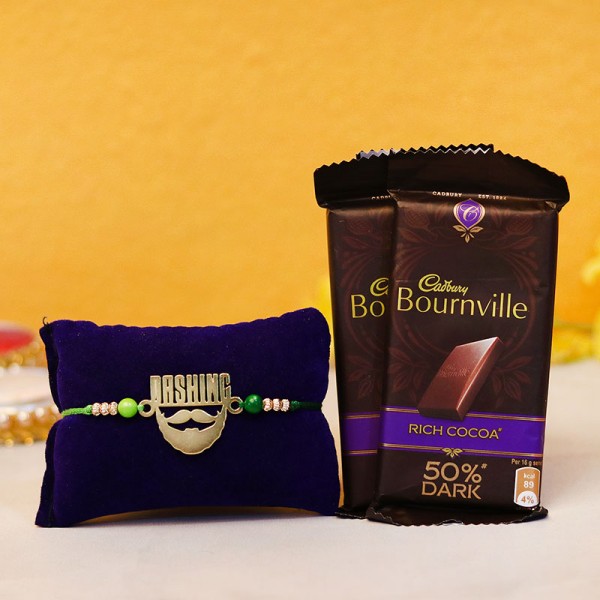 Happiness is an unexpected surprise of chocolates. So, just make your brother experience sweet happiness by gifting him rakhi with chocolate combo to add delight to this festival. On this festive, celebrate the sweetness in your siblingship with the delicious chocolates in a decadent array of flavors. All you have to do is order rakhi with chocolates and weave sweet magic. This is the perfect Raksha Bandhan gifts for sister that they never expected off.
Rakhi with Sweets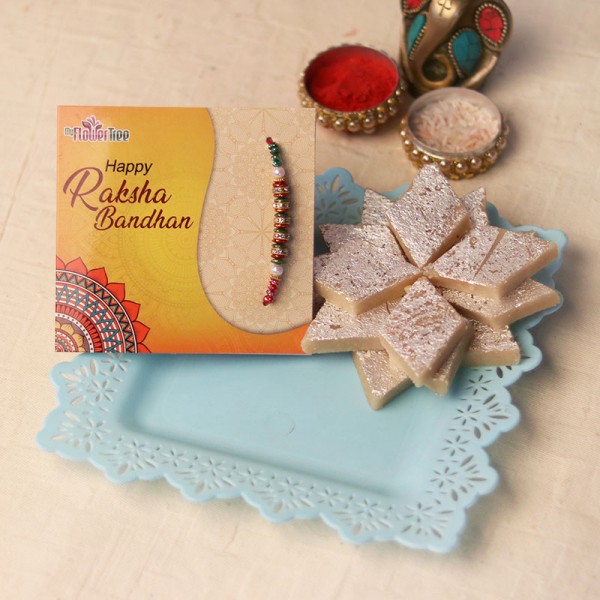 Have you thought about bringing the best and the most attractive gift for your sweets brother? If so, celebrate the traditional rakhi for honoring the brother-sister relationship over a special rakhi and Indian sweets of MotichoorLadoo, KajuKatli, Gulab Jamon, SoanPapdi and plenty more. An eye-catching rakhi with a box of sweets is the best rakhi surprise for your brother that allows you to celebrate the festivities as per the traditions, rituals, and customs.
This Rakhi, send rakhi online India to celebrate love with exciting gift hampers as a token of love of your siblings.
Rakhi with Dry Fruits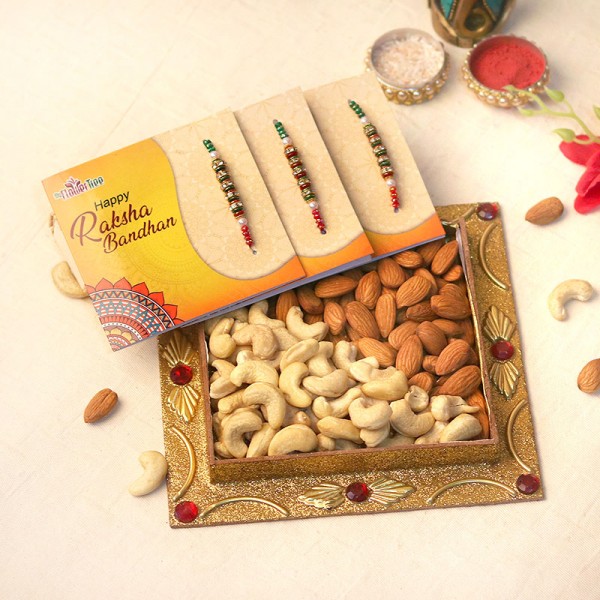 Not every person is born with a sweet tooth, most of them are inclined towards healthy munching. For such health-conscious souls, gift them rakhi with dry fruits that seem to be idyllic. Nutritious dry fruits like cashew, almonds, pistachios, dates, raisins, figs, and much more will be definitely hard to resist for your brother.  It is sure to make this year's Raksha Bandhan celebration top-notch.
Rakhi with Personalised Gifts
When it is hard to reveal your love and emotions to your sibling, let personalized gifts do the magic for you. There are plenty of personalized gifts like a rakhi photo frame, rakhi cushions, rakhi mugs, and more available to choose from. It gives you a wonderful opportunity to pour your heart out to your brother without saying much.
Rakhi with Plants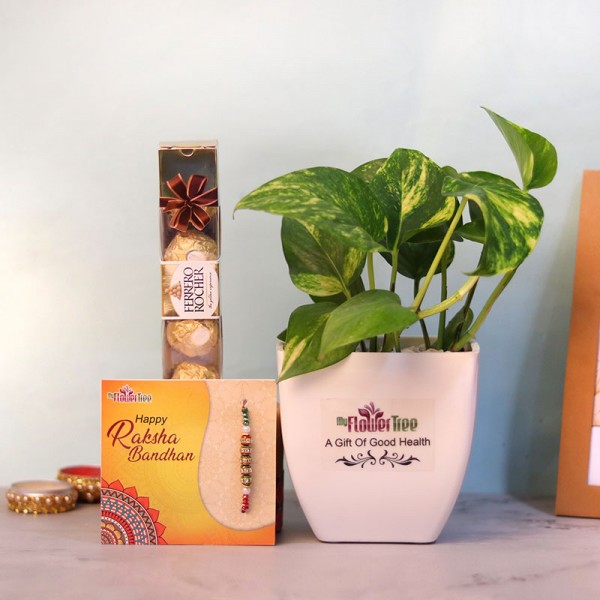 Let love grow! For your nature love sibling, rakhi with plants is just perfect. From air purifying to flowering, nature blesses you with several options. Just pick the lucky plant hamper for your brother and wish them love, luck, and prosperity. On this rakhi, go for rakhi online shopping and express your love and emotions with this unique gift hampers, which is fully loaded with your true feelings. Of course, it will be a great way to convey your love and care to them.
Rakhi with Flowers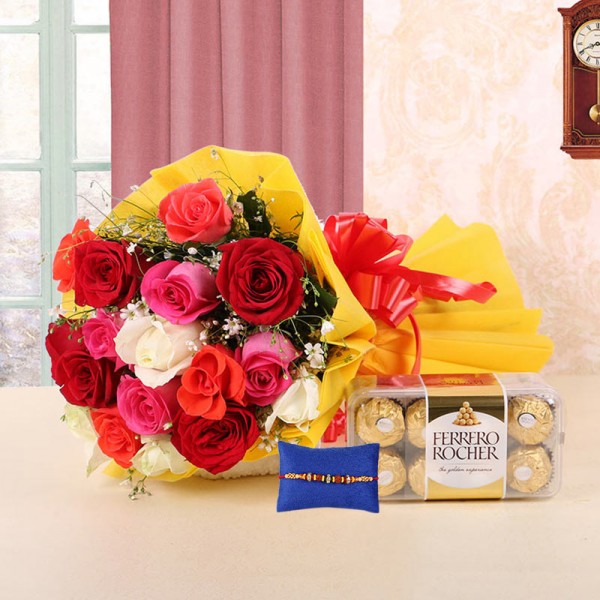 Typically, flowers speak beyond words. And flowers symbolize love, care, gratitude, and happiness. Of course, this will be the best sweet surprise to make their day much bigger and brighter. On this special occasion, send their favorite beautiful flowers to them and bring good luck to them. Wish to revive the most beautiful and best moment with your sister? Then this beautiful flower is the best rakhi gift for married sisters that would surely bring a ton of smile on her face.
Rakhi with Greeting Cards
Looking forward to a special gift for your sibling? So, buy rakhi online along with best wishes greeting card to make this day even more beautiful in both of your lives. Words can color everyone's life. Is there any better way to express your feelings than in words? Of course, words do the magic as no gift does. The greeting cards will touch your sibling's heart and bring in a lot of joy.
Final Verdict
Mark the festival this year with this sweet gift hampers to honor your relationship. What are you waiting for? Just get into the MyFlowerTree site to avail amazing rakhi gift hampers at reasonable prices. There are plenty of Rakhi gift hampers for your sibling that will do the magic for you. Shop yours at Myflowerstree and make your sibling feel lucky to have you, like every Raksha Bandhan. Make use of this information and pick the perfect one for your sibling that add up to the glory of the festival.