It would be fair to believe that you can never go wrong when choosing flowers as a gift. If you want to put a smile on someone's face, you would probably think of giving flowers as a gift firstly. They have a unique, intrinsic charm that will surely attract the eyes of the gift recipient. You can easily find flowers bought and exchanged as a gift by people for different occasions. In terms of variety, you can find a wide range of flowers available at all times, be it roses, lilies, orchids or carnations.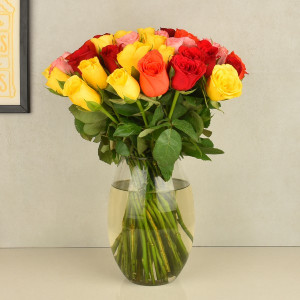 Here are 7 reasons why buying flowers as a gift always work –
1. Best for All Occasions
Special occasions dedicated to a loved one deserve a special gift. For them all, you can buy flowers. Whether it is a birthday occasion, a wedding anniversary, Valentine's Day or Mother's Day, etc., a
bunch of flowers
can convey your feelings and emotions to the one you are buying them for. So, there's just no need to worry if you are unable to find an impressive gift for a specific occasion. Spread the love with flowers.
2. Loved by People of All Ages
Just like a love that knows no age, the beauty of flowers reaches the heart of people of all ages. Teenagers, adults and even senior people love to get flowers as a gift from their loved ones. If you want to impress someone close to your heart or are just visiting an old friend after a very long time, buy flowers to beautify the special bonds you live within your life.
3. Great Way to Start Your Love Life
If you feel attracted to someone 'special' and want to open up your heart to him or her, say it with flowers. The kind of flowers you choose will help you give words to all your thoughts and feelings. Whether you want to propose someone or to start a love-filled relationship, let beautiful flowers do the talking for you. You can even buy flowers online to get same-day
flower delivery in Indore
, Delhi, and other major Indian cities.
4. Perfect When Given as a Surprise Gift
It feels great when we plan a surprise for our loved ones to say that we care. When given as a surprise gift, flowers have the power to put a smile on the recipient's face. If you want to make one of your loved ones feel good in hard times, flowers can help you make it happen.
5. Easily Affordable
Some people believe an expensive gift is more attractive than a cheaper one, which is not totally true. It's your good thoughts and feelings behind the choice of a gift that adds value to it. As a gift, flowers are budget friendly in nature. You can buy a single piece of flower, a bunch of flowers or a big bouquet, whatever suits your budget. If you want to choose the best flower gift within your budget, one way is to avoid buying costlier flowers like orchids or carnations.
6. One of the Best Gifts for Nature Lovers
Those who love Mother Nature, feel great to live closer to it. For them all, fresh flowers are one of the best gifts you can buy, irrespective of the occasion. If you particularly know what kind of flowers the recipient would love to receive as a gift, that's even better. With your choice of a flower gift, you can express that you know and consider his or her likes all the time.
7. Easy to Order from the Comfort of Your Couch
Earlier in time, it was hard to find and buy an impressive gift easily. For gift shopping, people need to visit one local gift shop after the other, spending their precious time for the same. But time has changed. Hundreds of flower gifts are available online. With just a few taps on your smartphone, you can get them ordered and delivered straight to your doorstep. If you haven't yet started buying gifts online, make your first order here at MyFlowerTree. With flowers as a gift, you can win the heart of all your loved ones. Whether you want to show your compassion to someone or are willing to open up your heart, don't forget to buy flowers to make wonders happen in your life.