10 years might seem like a long times, but not when you spend those years with someone you love. And we know that these years have brought in a lot of happy moments in both of your lives. While these ten years of your married life would be cherishable, it is important to make sure that you celebrate this special occasion with utmost zeal and passion.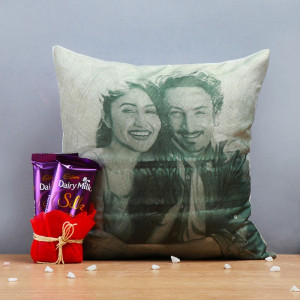 And to help you with that, here are a few fun and romantic ways that will help you celebrate this day and reminisce the past ten years of your married life:
Decorate the Room with Flowers and Balloons
The best way to greet your husband on this special day is to surprise him as soon as he wakes up. And what could be a better way than decorating the entire room with beautiful roses and colorful balloons. This will make him feel that he is in a whole new world and the surprise will come as a pleasant surprise for him. Make sure that you wish him well, as soon he wakes up, by handing him a bouquet of flowers. You can even make a card or a big poster that says "Happy Tenth Anniversary".
For this, you might have to put in some effort and time, but it will all be worth it in the end! If you can manage to let your husband get a day off from work, make sure you do it. It is better to keep it a surprise from him. For that, you would have to contact their boss separately and let them know about your plan. Make sure that their boss does not disclose your plan to your husband. This way, you can surprise him on the very day of the trip which will surely make him a lot more joyful and thrilled. Also, since your husband will be unaware of all this, you might have to pack his stuff as well. But all this effort will be worth the happiness you are about to give him.
And if in case, he doesn't get the day off, you can surprise him with a long drive. Just show up at his work in the evening and take him to a long drive. Nothing can beat the charm of a long drive.
While some people would want to celebrate this occasion by spending some quality time with their spouse, some would want to invite all of their acquaintances and celebrate this day by sharing their happiness with each one of them. And if you belong to the latter category, there is a lot you need to plan. From decorations to food, all need to be impeccable just like your love and affection for your husband. You and your spouse can divide your tasks which will help you both. Also, cake being one of the most important elements of parties, need to taste delightful.  While you can pick any cake and get the delivery done in Delhi right at your doorstep, there might be a chance that you still not ordered a cake. To correct this mistake, be sure to pick the same day cake delivery option. Moreover, you can even have a personalized cake that narrates your love story or you can pick a cake that has your and your husband's initial or number '10' written on it. While your initials will give it a personal touch, the number '10' will help you celebrate 10 years of love and togetherness with your partner.
Good food is probably the best way to convert any ordinary day into a memorable one. So, if you wish to make this day a lot more special, you can try and cook something special for your husband. In these ten years you might have not only known all his favorite dishes but have also managed to cook a few nicely. And this is the day when you get to showcase your cooking skills. We are sure that as soon as your husband gulps down his first bite, he will be grateful for the day you said yes to his marriage proposal. After finishing the meal, you can order some delectable desserts to end this special day on a sweet note.
These were some of the fun and romantic ways in which you can make your tenth wedding anniversary a lot more special for your husband.