Birthdays are one of the most awaited occasions for every individual. And it's not about getting excited about your own birthday, but anyone who is special to you. For instance, you as a child must have already started planning for your parents' upcoming birthdays or anniversaries. Similarly, each and every person tends to have a soft corner for someone in their life.
While there might be a lot of relationships that you have formed over the years, but there are surely some bonds that you cannot afford to lose at any cost. One such relation is shared between a husband and a wife. This bond is one of the purest forms of love and affection and your spouse's birthday celebrations deserve to be as grand as possible. So if your beloved husband's birthday is just round the corner, you may begin with the gift shopping and other preparations that will help you make his birthday a lot more special. Below are some exquisite gift ideas that will help you do so:
One of the best ways to commence this special day is to present your beloved husband with a bunch of fresh flowers. This little yet romantic gesture is one of the great ways to kick-start this day and wishes you spouse a very happy birthday. The bright colours of the flowers are bound to make his entire day a lot more vibrant and happier. From such a wide range of flowers, you can choose variants like lilies, gerberas, carnations, orchids, etc. Although all of these flowers are good picks, we suggest you get you better half a bunch of red roses as no other flower can express your love in a better way than these.
A bouquet of flowers seems a little incomplete without a hand-written note. So to make sure that your gift is a complete package in itself, don't forget to throw in a greeting card that has all your feelings written down and will also help you express your emotions in a much better way. This will give it a more personal touch and will help you earn some extra brownie points.
It's time for breakfast, and the day should begin with something sweet. You may cook something for your husband as a gift and can even order something which is always better and a much convenient option. You can pick a box full of chocolates, cupcakes and sweets that are bound to make this day a lot sweeter and flavorful. Also enjoying a delectable breakfast is a great way to spend time with your hubby on his special day.
It is finally time to begin with the birthday celebrations, and what could be better than a birthday cake cutting ceremony to do so! And while there are a lot of cake options available, some of the best ones are theme cakes, premium cakes, heart-shaped cakes, red-velvet cakes and personalized cakes. As all these cakes are quite unique on their own, you would be able to surprise your husband with one of the best cakes.
The next thing on the list is obviously a birthday gift! We know that finding the perfect birthday gift for your husband can be a dreadful and a tedious task but not as long as we are here to help you. Photo frames are a classic gift option, but they can turn out to be a lot more fun and unique if you put in a little effort and personalize them with you and your husband's photographs. Now, that's a gift your hubby would love to unwrap!
If you wish to get your husband more than just one gift and pamper him a little more on this day you can get him some other presents as well. And some stylish accessories are great add-ons to an existing present. And since there are so many options, you can choose from any stylish accessories like a watch, wallet, belt, etc. and help your better half look his best on this special day.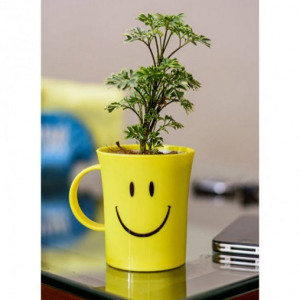 To end this fun-filled day on a relaxed note, you can get a green plant which may not necessarily act as a present but a home décor item. As green plants purify the air, involving a new element in your life which improves your lifestyle is a great way to step into a new year of your life. Thus, bringing in some greenery on this special day will make sure that you are able to lead a healthier life and celebrate next year's birthday celebration with enhanced bliss and glee.
These were some of the gifts that will help you make your better half's birthday a lot more special.