The word 'Raksha' means protection and 'Bandhan' means bond. Rakshabandhan is the promise of protection and unconditional love and care between brothers and sisters. This sacred relationship is pure, free of malice, devoid of selfish desires and worldly pleasures. On this day, the sister ties a holy thread called 'Rakhi' on her brother's wrist to wish for his health, happiness, success and overall being of their families. In India, it is celebrated with great enthusiasm and zeal as it is one special day when brothers-sisters forget all the grudges and ill-feeling to come together and raise a toast to their beautiful relationship. On this day, the brothers treat their sisters with gifts in exchange for their true blessings. They also promise to safeguard their sisters from all the troubles of life.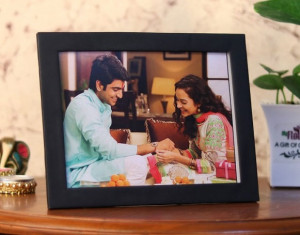 The day of Raksha Bandhan rekindles the memories of sweet and tangy childhood spent with our loving siblings. Right from helping each other with homework, to protecting each other from mom's bashing to looking after each other in school, brothers and sisters have such a closely-knit childhood that no matter come what may, they never leave each other's side. Siblings are like warm blankets on a cold night, a ray of sunshine on a cloudy day, a bird chirp in the silent woods and a touch of faith when everything seems to go wrong.
The sisters are hard-wired to wish only good upon their brothers. A sister begins her little duties right from childhood when she protects her 'Pyara Bhaiya' who flunked the exams from Daddy's angst. She cooks for her brother even though she doesn't know how to light the gas. She gives him the motherly comfort when she needs some warmth herself. On the other hand, a brother never lets an evil thing near his precious sister. He makes sure she has everything she needs to study, learn, grow and lead a happy life even when he's barely got enough to keep hand-to-mouth for himself. A brother's sacrifices, love and patience knows no bounds when it comes to his sister. He can kill, or get killed to protect his little lady.
The circle of life is such that brothers and sisters part ways as they grow up. Some get too busy making a career and others get too engrossed in raising a family but do they forget each other? NO! They sure grow up to become entirely different people but there's always a little soft corner in the heart that craves for that childhood-like brother-sisterly love. For a sister, her brother's arms are her safe abode and for a brother, his sister is his prized possession for whom he wouldn't mind smacking down one or two. Such is the beauty of this relationship that the two would give up the world for each other's safety but never give up on each other.
In today's times, most brothers and sisters do not celebrate Rakshabandhan under one roof. The modernization of the world has made us 'too cool' for Rakhi but is it right to forget our traditions? Well, even though this eternal bond needs no specific day to be celebrated, the occasion of Raksha Bandhan is a simple excuse to relive our glorious childhood days that we seem to have forgotten in the hustle-bustle of life. It is a day to recall that nothing in this world can alter the noblest and pure relationship between a brother and a sister. It begins the moment we open our eyes until we finally say goodbye to the world. Brother and sisters go on forever, until eternity.