Karwa Chauth is a very auspicious occasion in Hindu Culture. The word Karwa means an earthen pot and Chauth means fourth. This festival falls on the fourth day of Karthika month of Hindu calendar. This day is marked with festivities and several rituals. On this day women keep a day-long fast. They have their meals before sunrise, and this very first meal of the day is known as Sargi. After Sargi they do not eat till moonrise. They perform Pooja in the evening where they pray to god for the long life of their Husbands.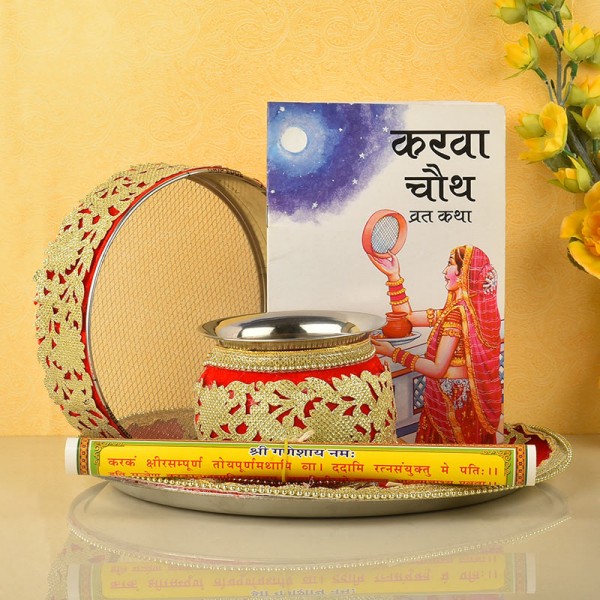 Indian women throughout the world celebrate this day. They have filled zeal and start the preparations for the day well in advance. They buy exclusively decorated Pooja Thalis, sweets, mathri, fruits and several other eatables. They dress up in traditional Indian attire, wear elegant jewelry and beautiful designs made of henna on their hands. Some newlyweds also wear the attire they wore on their wedding day. Even though women stay off food throughout the day, they are energetic and enthusiastic.
The day of Karwa Chauth is seen by many people as the day on which a woman commemorates her bond of love with her husband. However, it is a family affair. On this very day, a woman also honors and rejoices her relationship with her mother in law. Women buy Karwa Chauth gift for mothers-in-law. Also, mothers-in-law get an exclusive Karwa Chauth gift for bahu. They go to listen to Karwa Chauth Vrat Katha together and try to understand the deep meaning that it carries.
Here is the main Karwa Chauth Vrat Katha that is narrated at the time of pooja along with its significance:
The story of Veeravati
Veeravati was the only sister of seven brothers. As she was the only sister, her brother made her marriage a grand affair. Then came the day of Karwa Chauth, after her marriage. Since it was her first Karwa Chauth after her marriage, she decided to celebrate the festival at her parent's home with her brothers.
The brothers were happy to see their sister. Knowing that Veeravati was there to stay with them for the entire day, they asked their chef to cook delectable cuisines. But, they were unaware of the fact that she was there to fast for the entire day. They called her to have lunch, but she refused. Surprised, they asked Veeravati the reason. It is then she told her brothers that she is having Karwa Chauth fast today.
As the day progressed, the brother saw their sister getting uneasy with hunger. They asked Veeravati to break the fast before moonrise, but she refused. Then the brother decided to deceive Veeravati in order to make her eat something.
They planned that they will let her believe that the moon has risen when there was still time left for the moon to come up. A brother reached the top of a tree, lit the fire and placed it behind a sieve. Seeing this, Veeravati was convinced that the moon has risen and broke her fast. The moment she ate, the news of her husband's death reached her. She was shattered and immediately took off for her in-law's home. Midway she was stopped by goddess Parvati, who discloses her brothers' trickery to Veeravati. Parvati then cuts her finger and gives her a few drops of her holy blood. She then sprinkles the drops on her husband, and he gets back his life. This way Veeravati was reunited with her husband.     On the instruction of Goddess Parvati, Veeravati made sure that she completes the fast next time.
Veeravati could not bear to lose her husband and did whatever she could to bring him back. Like Veeravati, no woman can afford to stay apart from her husband. The thought of losing him haunts her and she will leave no stone unturned to stay with him forever. This is what Karwa Chauth Vrat Katha signifies.