Janmashtami marks the birth of Lord Krishna on the planet. Lord Krishna is the 8th incarnation of Lord Vishnu. It is the most auspicious festival for Hindus. On a special day, the idol of Krishna is bathed in milk and water, dressed in new sparkling clothes, and worshipped. Everyone prays to Lord Krishna and seeks his blessings for a happy and prosperous life. Every year, people celebrate the special festival with much fervor and enthusiasm to welcome the lovable 'Nanhe Gopal' to this world.
Janmashtami vrat
is one of the most widely celebrated occasions in India. On a special occasion, the faithful engage in prayer, song, fasting, and feasting to honor Krishna's birth. You can celebrate the sacred festival of Janmashtami with your loved ones at home and make the most of it. Here are some celebration ideas at home that will help to make the day special for you and your family.
1. Decorate Your Home
Decorate your home with flowers and lights to make this Janmashtami special. Obviously, the special day should be celebrated with full swing. Want to decorate your home traditionally? Go with flowers, toran and lights or even you can make some small theme-based decoration on this special day.
On this day, making special rangoli is something very special and an important ritual. Welcoming Krishna with a footstep Rangoli is also the best decorating idea at home. Mix the rice flour and water and draw footprints from the entrance of your home to your Pooja room. Doing this ritual is for small creatures like ants and insects to eat. Some people can do some small replica of that period by decorating the home with small idols of gopi's, cows, gwala Baal, and villagers that bring a perfect festive feel of yours.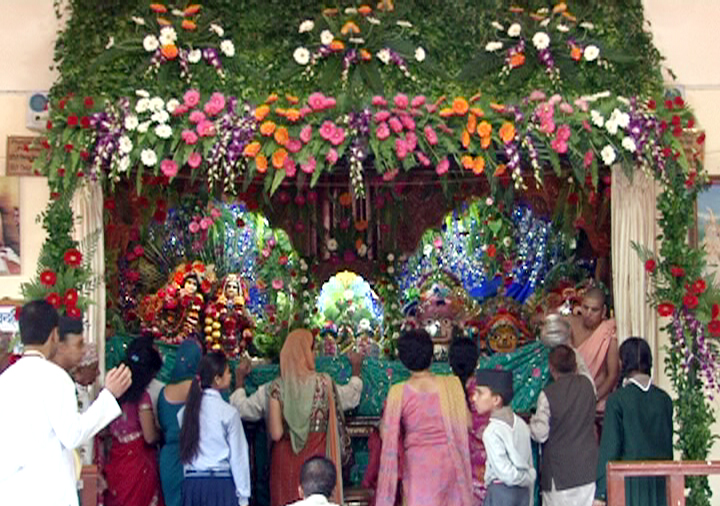 2. Tell Stories About Krishna
It is one of the best
Janmashtami celebration at home ideas
. Reading books of Krishna would be a great time to talk to your kids about the stories of Krishna and the significance of Janmashtami. There are numerous books collection of short stories and illustrations about the life of Krishna. So, get the books of Krishna and read it with them. Also, tell them about the importance of the Janmashtami occasion and special activities associated with the festival. After learning about Krishna, prepare a skit to depict his birth on this day. Organize Raasleela or some small skit from Krishna Leela and Some stories from the mythological book in the remembrance of lord krishna. You can help your kids write dialogues for the scenes, design the costumes, and even perform with your child.
3. Invite Family And Friends
The celebration is incomplete without the presence of family and friends. So, invite your family and friends to become a part of this special festival. Chant special mantras and songs of lord Krishna to remember him. All family members and friends will assemble and the eldest one of the family will do the Pooja and then distribute the Prasad to everyone. So,
celebrate Janmashtami at home
that relishes your family members on the auspicious occasion. Of course, you will get lots of click-worthy moments that will be more memorable.
4. Celebrate The Day With Delicacies
No Indian Festival is incomplete with special delicacies. Most people fast for the whole day on this special festival. So, you can go for upvaas which is the special food that your kids will adore. Make favorite food like Shrikhand, Milk cake, Kalakand, and some sweet dishes made of milk. Krishna is a huge fan of butter and ghee. So, people believe that he will bless them with all abundances by tasting his favorite dishes. Don't forget to make panjiri for the Prasad. Prepare a complete meal that could be Sabudanapakora, Jeera Aloo, Seviyan Kheer, and Cucumber Raita.
5. Dress up your Kids in Radha Krishna Attire
Janmashtami is the celebration of
lord krishna's
birth. Apart from the poojas and fasting, dressing up your little kids as Krishna on this special day is the most exciting part of this festival. Every kid is like the manifestation of little Krishna. Little kids will surely enjoy playing dress-up and listening to charming Krishna stories. Deck up your little girl as Radha looks beautiful and festive. The main attraction of the occasion is the kids decked up a Radha or Krishna. Damn sure, you won't take your eyes off your cute little one. It is believed to bring in positive energy and good luck in your life.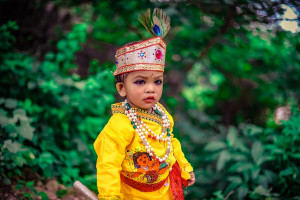 Last Few Words
Bring magic to your home this year with these fun and amazing celebrating ideas. Don't miss the great opportunity to be part of the special occasion and celebration of Janmashtami. So, celebrate this special day with enthusiasm over lots of sweets and smiles. With the special ideas, let's lift the birthday vibes of Lord Krishna. Happy Janmashtami To All!