Choco Lava Cake
seems spectacular but is really simple to prepare. They are ready in less than 10 minutes and require only one bowl and a whisk to make. For stress-free entertaining, prepare the batter ahead of time and chill it before baking your Molten Lava Cakes. Every time, these Chocolate Lava Cakes come out flawlessly, with a lovely stream of silky chocolate you'll want to lick from the plate.
You would have tasted this in your nearby restaurants, but have you tried baking it at your home? If not, then you are at the perfect article, here you can find the simple method of baking the delicious and fluffy choco lava cake. Without any delay, let's jump into the
ingredients for choco lava cake
.
Check Out Your Pantry For The Following Ingredients:
Choco Lava Cake Recipe
is quite easy to bake, you just check out the following ingredients in your pantry. If everything is ready, you directly dive to the next step.
Note:
Make sure that you measure the ingredients according to your members.
1/8 teaspoon salt

1 cup powdered sugar

2 egg yolks

6 tablespoons flour

1/2 cup butter

4 oz semi-sweet baking chocolate, roughly chopped

4 6-8 oz. custard cups/ramekins

2 whole eggs
Prep Ahead:
Uncooked chocolate molten lava cakes in ramekins can be refrigerated for up to one day. If you plan on doing this, be sure to line the bottoms of your ramekins with parchment paper that has been trimmed to size before spraying with nonstick spray. This will prevent your cakes from sticking to the bottom of the ramekins after resting for an extended amount of time before cooking. Refrigerate the ramekin after wrapping it in plastic wrap.

Another way to store your uncooked molten lava cake is to retain the prepared mixture in its mixing bowl, wrap it in plastic wrap, and place it in the refrigerator for up to two days.
It's Time To Bake:
Here you are to the main step, follow each step to
make choco lava cake at home
. Make sure to place everything in your kitchen space before you start baking.
Step 1:
Preheat 425 degrees oven. Preheat. Sprinkle with the flour or grate and dust 4 little ramekins/custard cups of baked non-ticking spray with cocoa powder. On a baking sheet, place cups.
Step 2:
Add a large microwave bowl with butter and chocolate, then whisk until butter and chocolate are totally smooth for 1 minute, or until butter is melted. Stir. Then mix. Add a smooth bowl in the sugar. Add eggs and yolks, and beat for 1 minute. Then beat. Add meal and salt, then mix together.
Step 3:
Spoon batter into prepared muffin cups in an even layer. Bake for 12-13 minutes, or until the edges are hard but the interiors are soft (but not jiggly). Allow cakes to cool for 2 minutes before carefully removing them from the custard cups with a knife and inverting them onto serving plates. Serve immediately once you have finished dusting your cake (this is completely optional, because the cake is still baking).
Step 4:
What else do you expect in this step? Just enjoy the
best choco lava cake
!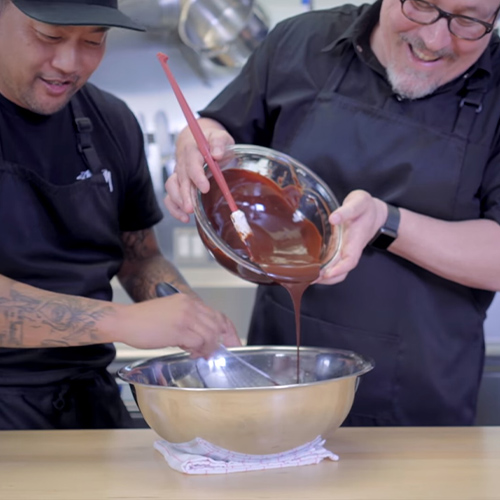 Can You Freeze Your Lava Cake?
Allow the cakes to reach room temperature.

Remove from the ramekins and set aside to cool fully.

Wrap your cakes in plastic wrap, separately and firmly.

Place your cakes in heavy-duty zip bags with no air inside, or an airtight container.

Label and keep in a cool, dry place for up to three months.
Other Important Tips:
Allow It to Cool, But Only For A Moment:
Although lava cakes are meant to be served warm, letting the cake cool for a minute or two before removing it from the ramekins can help it solidify a little and prevent it from shattering when you remove them. If you remove the cakes too soon, the cake may collapse into mush.
Grease Thoroughly:
You don't want to have a nicely cooked lava cake only to discover that it can't be removed from its ramekin. If you grease your ramekins well, getting your lava cake out will be a snap. Simply run a sharp knife around the sides and pull it out!
Ingredients:
The quality of your lava cake is only as excellent as the ingredients you use. So, if you want your cake to be completely mind-blowing, make sure you choose high-quality components. Not only will the ingredients increase the taste of the cake, but they will also improve its texture.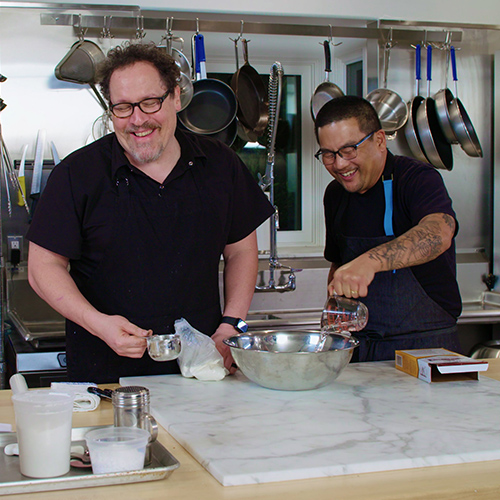 Final Thoughts
Tattaa! Your creamy choco lava cake is ready to steal your dear one's heart. If you find it difficult to bake it yourself, you can order and get it via an
online cake delivery
service. Thus, why are you waiting, order online from a reputed bakery, and have fun with your dude!