Occasions are many and each celebration is a perfect time for strengthening the relations. One such occasion that celebrates the pious relationship between students and teachers is
teachers day.
Teachers are the ones who need to be credited and acknowledged for the valuable contributions given to students to create good citizens. They are often the second mothers to students as the children spend most of their time in schools rather than at home. To pay tribute to the best quality of every teacher and for the most valuable lessons they had tutored, teacher's day is celebrated with its essence. Below mentioned are the significance and importance of teacher's day that one must know in their life. Have a quick view of the below content.
Significance of Teacher's Day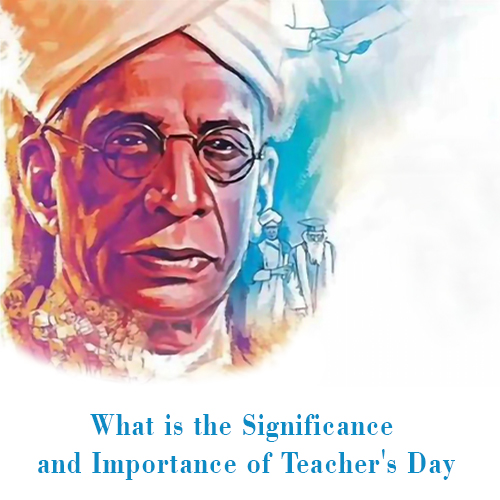 Do you know why teacher's day is celebrated? Can you guess on which day it falls on the calendar? Teacher's day is celebrated across the nation on 5th September, and all around the globe, it is celebrated on 5th October. Are you wondering about the
significance of teachers day?
Do you know the significant features of the particular date? It is the birthday anniversary of a well-known person who is an educationist by heart. Yes, it is Dr. Sarvepalli Radhakrishanan. The legend was the first vice president and the second president of India. He also decorated his position as a distinguished envoy, advocate of education, and all of the above a great teacher. In memory of his legacy, India started celebrating teacher's day from 5th September 1962.
Importance of Teacher's Day
Teaching is considered as one of the noblest professions as it contributes a greater educated population to the world. Teachers are the ones who choose their careers to spread knowledge and wisdom. Only educated workforces can up-bring the nation to the developed stage. For this one must be well-educated with proper guidance and visions. A teacher not merely teaches the students about lessons in the textbooks, but mold a child into a socially responsible person. They are role models for many and are respected by society as a whole. Do you know the
importance of teachers day?
And why do they deserve more recognition? Here are some of the reasons:
They make learning creative so as to make their students understand and imbibe the knowledge quickly.

Teachers are always an inspiration to students and give motivation to them in every step.

So the students, teachers, or mentors are also equally stressed. So they need to be respected.

Teachers are the best inspiring sources and the magicians too for the students.

They have a greater tolerance for dealing with every type of student within a class.
These are some of the reasons why a teacher requires appreciation and recognition. There are countless reasons to hold an eminent position in every student's life.
Celebration of Teacher's Day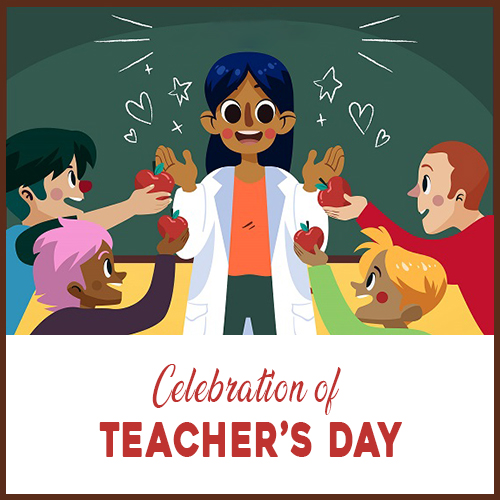 The day is celebrated in memory of the great teacher Dr. S Radhakrishnan. On this day, as a sweet gesture of respect and love, students extend gifts to their teachers. They convey the importance of their mentors in life with words and speeches and with enactments. And also, most importantly senior students take a chance as teachers and do perform their tasks clearly as a guide for the junior students. It brings up the creative mind and the sense of spreading knowledge to others on this special day. Listed below are some of the sorted-out
gifts for teachers day.
Have a glance at the list and choose the best one for your teacher:
A Personalized Journal with a Pen:

One of the best

teachers day gifts

that you will find online will be the combo offer of a leather journal that can be personalized with your teacher's name or initials. The ballpoint pen which also can be customized will be the perfect option of a gift for your truly committed teacher. Vivid portals are making it available on the sites at affordable rates. Grab the one for your favorite guide and let them remember you forever.

An Inspiring Book:

It's a known fact that Sarvapalli Radhakrishnan's birthday marks the

history of teachers day

celebrations in the country. So on the big day present your beloved teacher with a book written by this legend. It will be a unique and useful present that will enlighten your mentor

Customized Photo Frame:

Never settle with an ordinary gift on this upcoming Teacher's Day. Give your lovable teacher a worth-remember present. A photo frame with the portrait of your teacher with her favorite batch of students will be an ideal gift. Add on a quote that makes sense of the

teachers day importance

. Let her remember your batch and the students whenever seeing the picture.
Final Verdict
The above-mentioned are the
teachers day significance
and importance one must know in their life. Teachers are the only people who inspire millions of students through generations. And also gives life-transforming tips to pave the path of light.