Flowers are a wonderful Nature's gift. And people used it to give gifts to their dear ones to make the moments more memorable. There are numerous flowers in this world where each one carries a very special meaning. Flowers are the health therapist and instant mood boosters that can add an instant smile to everyone's face. That is why it has been an outdated gift and used for every occasion regardless of age.
Have you ever tried a mixed flower bouquet as a gift? As said earlier, each flower carries a different meaning, and mixed flowers grab a very place in your beloved person's heart. This article is all about the meaning of mixed color flowers and why you need to give them. So, let's get into the article.
Mixed Flower Bouquet
Each flower has its own unique meaning. While some flowers represent love, others represent friendship, purity, caring, affection, and other emotions. However, when these various flowers are artfully combined in a stunning Fresh mixed bouquet, they become a fantastic gift for giving on all happy occasions. You can even personalize these flowers when you buy mixed color flowers online. The best online retailers have experts who can help you bring the most adorable and eye-catchy flowers for your soulmate.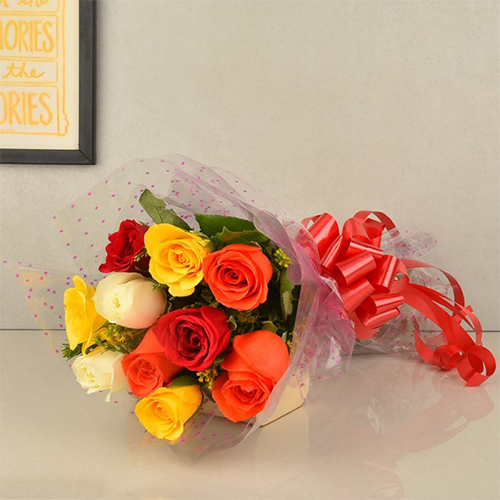 MEANING OF DIFFERENT COLOR FLOWERS
Red Flowers:
Fresh red flowers create a valuable and obvious expression of deep romantic love. Red is unquestionably the color of passion, and any red bouquet or red flower arrangement will convey your deep and intense love. Red flowers have the most symbolic resemblance to the heart and the color red is associated with seduction and passion. The most popular red flower is the red rose, but when mixed with other colors, they will all convey your message of passion and desire.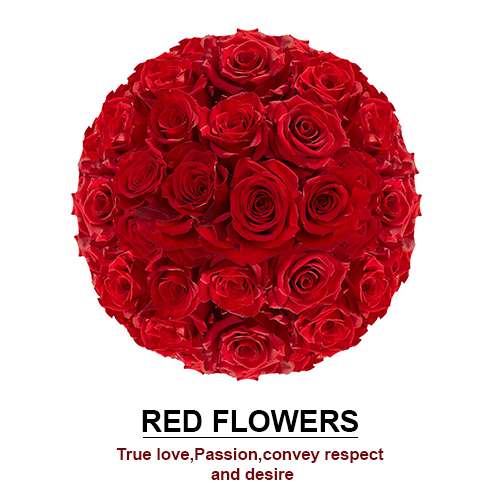 Yellow Flowers:
Friendship, parental love, trust, kindness, and respect are all symbolized by yellow flowers. Yellow flowers, with their gentle brightness, convey sympathy as well. Even at difficult times, these soft flowers demonstrate your warmth and care while renewing friendship bonds. Yellow daffodils are excellent gifts for friends, but mixed color flowers, yellow lilacs, and chrysanthemums are lovely, meaningful flowers.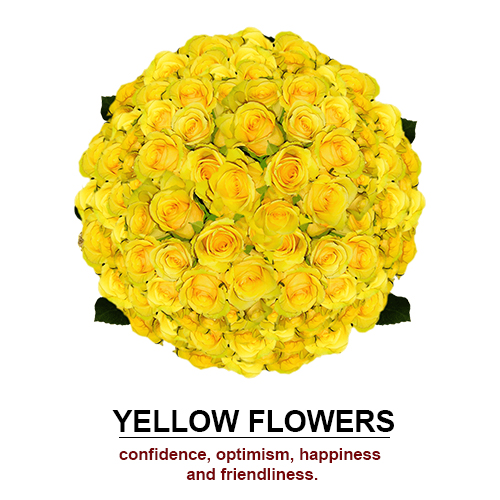 White Flowers:
Fresh white flowers are the ideal bridal flowers as they are strongly linked with innocence and purity.  White flowers are great for conveying the beautiful blend of elegance and innocence. White carnations, white orchids, white calla lilies, and white daisies are among the other stunning and strong white flowers. All of these flowers convey genuine, caring affection and unwavering commitment.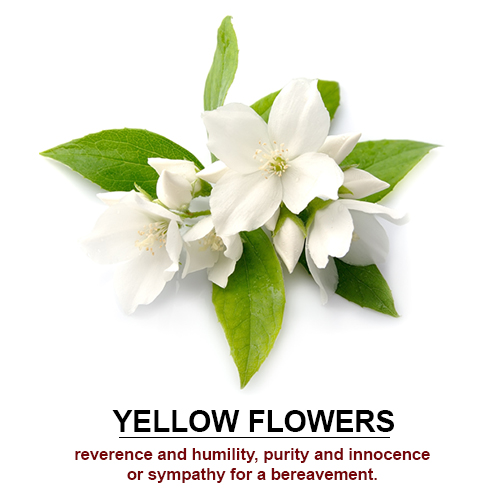 Blue Flowers:
Blue flowers are soothing and provide peace. They calm the emotions and promote a meditative state. Blue flowers are also associated with closeness, making them ideal for long-term partners who wish to express their deep and enduring trust. Blue flowers have a calming effect, making them a suitable sympathy or get well soon flower.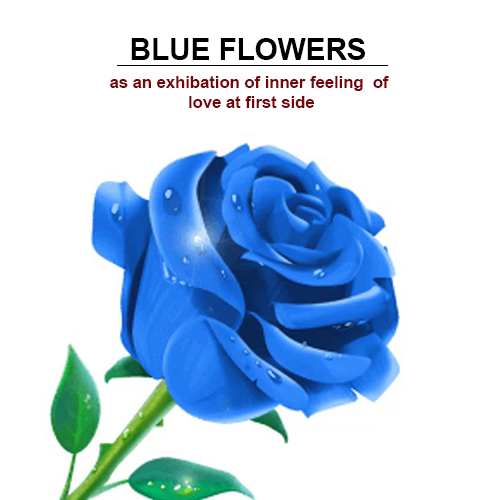 Mixed Color Flowers:
When the purity and innocence of white flowers are combined with the passion of red flowers, it gives a message of unity and enthusiasm. These two floral shades, when combined, transcend their original significance and give a promise of adventure wrapped in beauty.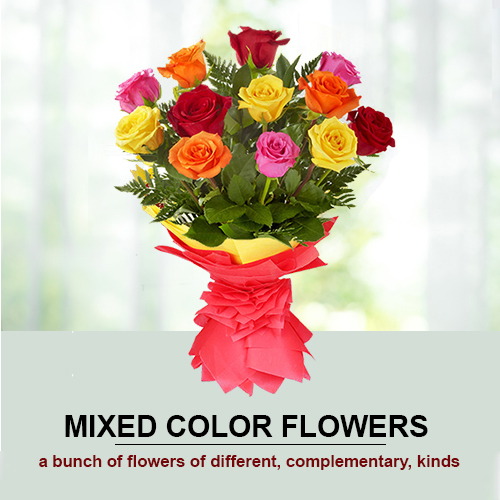 Advantages Of Gifting A Mixed Color Bouquet:
There are several benefits to giving a mixed color flower bouquet.
To begin with, a vibrant bouquet of posies emits enthusiasm and brings happiness to the environment.

The bouquet exceeds the particular symbolization of flowers, and the numerous blossoms together represent happiness and zeal.

The receiver may like more than one type, thus giving a mixture of blooms is the greatest way to put a smile on your loved ones' faces.

 Finally, these flowers are appropriate for presenting on any occasion, so the sender does not need to be concerned about the meaning.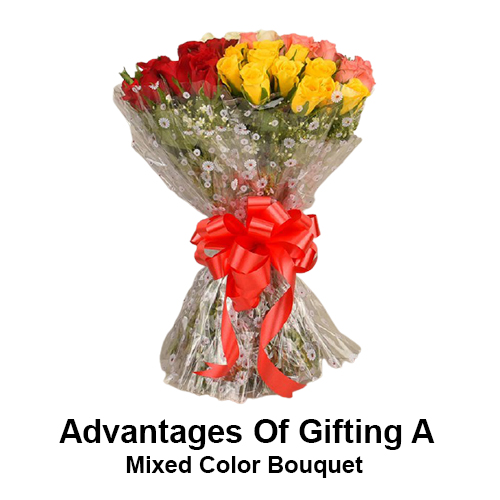 Where Can You Get The Best Mixed Color Flowers?
Not only mixed color bouquets, but even if you want to give gifts to other flowers, go with the online stores. The best online retailer can make your occasion more special than a local florist. Here are some of the advantages of choosing an online florist:
They have a wide range of unique flowers for each occasion.

You can easily compare the

mixed color flower price

which you cannot do in an offline store. Also, you need to pay only for the number of flowers you have used in your mixed color bouquet.

Online Florists have a special professional team to bring out the most elegant and adorable flowers for you. Never forget a thing, they have a personalization option.

You can make use of the same day or midnight delivery service to deliver your fresh flowers at the exact time.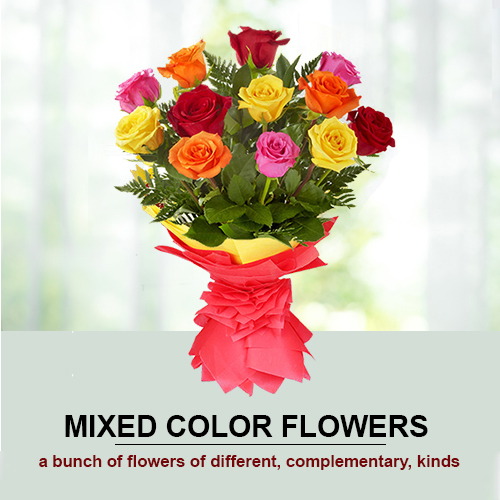 Final Words
Hope you have got an idea about the mixed color flower bouquets! Try this out in the upcoming events and wow your beloved person. Do not forget to use the online stores and save your pocket from burning. Happy Flowering!