Mothers definitely deserve more than one day to be celebrated! So when it comes to  getting her celebrating Mother's Day with your mom, apart from Mother's Day Special Gifts and flowers, go all out this year with these 7 out-of-the-box ways for celebrating the one day reserved for mothers all over the world, something that she won't be expecting but will remember for years to come.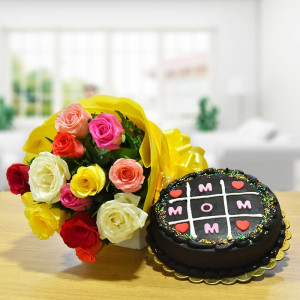 Gifts Befitting the Occasion
Mother's Day is a special day reserved for mothers. The beauty of the holiday lies in the fact that buying gifts for your mother on this day isn't about spending a ton of money—it's about spending quality time with her, who is one of the most important people in your life. Here are the gifts (or ideas for gifts) that will be completely befitting the occasion—
Cakes, Chocolate, and Dry Fruits
Books and flowers
Wind chimes and Water fountain
Furniture and showpieces
Kitchen Appliances and crockery
Luxury skincare products
Coffee mugs, Soft-pillows, and jewelry
Activities to do on the Day
Here are the best out-of-the-box ways to celebrate Mother's Day –
1. Take a Family Outing
After the initial childhood years, it becomes really difficult to keep up with how fast you drift apart from both your parents. For your mother, it is an especially painful ordeal. Plan a perfect family outing to some special or new place, where she will get to spend some quality time with her family, and you will get to bond with her better as she will be in one of her best moods!
2. Cook her Favorite Meal
At any regular home, your mother must be the one who does most of the cooking. As easy and effortless she may make it appear, on a routine, it can become very tedious at times. So take the reins of the kitchen for the length of this day, (or often, if you too are passionate about cooking) and cook for her. Make her a delicious and sumptuous, multi-course meal with all her favorite dishes! It will make her happier than fireworks in your yard.
3. Make it a Movie Night
Movie nights of eating out of heaped tubs of popcorn and sipping cool sodas are pure magic in a cold urban world, where you get to tune out the outside world and enter the romanticized world envisioned by creative directors. Choose a good movie and you will definitely enjoy this movie date with your mother more than any romantic date you may have experienced. Your mother may not be a big fan of movies, but you should definitely try this one out. She will see the thought and effort you put behind the idea.
4. Go Antique/Vintage Shopping
If there is something trending wildly today and always is antique and vintage, and this will be a common love both you and your mom will share. Go shopping with her and bring back beautiful antique and vintage pieces for your home. Let her take control of this area and you will be surprised how much you will be able to learn from her!
5. Join a Dance/Fitness workshop Together
Despite your wishes for your mom to stay forever young, she is ageing and while controlling and managing the entire household, she can't take care of her health and wellness as often as she needs. Take her out and both of you join some exciting and fun dance or fitness workshop that will introduce your mother to the fun side of working out. Day-long workshops of physical activity will let you two have beautiful and maybe funny moments that will be forever memorable.
6. Spa Day for Rest and Relaxation
Take your mother out for a day of luxurious solitary time at a spa rejuvenation center where you both get some peace, quiet and alone time to relax as well a bond. You could get manicures and pedicures, massages, steam baths during spa sessions. Get even two-for-one discounts and your mother will love you for the wonderful experience.
7. Take up a Home Décor Venture Together
Homes sometimes need to be refreshed too. Take up this challenge along with your mom to give your home a new look. Check up on D-I-Y ideas to reupholster chairs and couches that have gotten caved in from over-use. Go shopping with your mom for new curtains, new linen or even furniture shopping. Buy things that she likes, and see the smiles multiply.