Mothers Day Flowers Delivery Online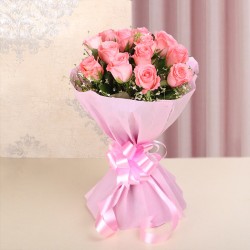 Send Flowers For Mother's Day
Flowers are not just to decorate something with, they carry a very special message. Just like our Mothers, each and every flower stands for something unique. Their feel, their distinct colours, their fragrance, their touch, every detail of their anatomy is made to be cherished just like our Mothers.
Sweet and benevolent, flowers are just like our Mothers. Whenever we see them, they bring a smile to our face and brighten up the day.
Mothers are cheerful like the colourful Gerberas who fill our world with the colours of various emotion; full of love and compassion like roses, unique like Carnations, sweet like Lilies and caring like Orchids.
Send Mother's Day Flowers Bouquets to your Mother because she deserves them. The different colours that give the flowers its beauty are same as different emotions that make our Mothers beautiful.
On the occasion of Mother's Day, send her flowers from our exotic range of carefully picked flowers. From a bunch of well-bloomed Roses to a bouquet of exotic Orchids, these Mother's Day Flowers will make perfect presents.
Avail our services and Send Mother's Day Flowers Online. Fill her life with the fragrance of Mother's Day flowers.
Gift Her Some Flowers
Mothers are a gift of god to humankind. They deserve respect and love. We at MFT value every mother and her efforts to live a life for the happiness of others. That's why we have stocked best of flowers from the gardens of world to honor her. Professional staff of MFT has designed and decorated nature's prettiest thing, flowers, not only in bouquets but also in vases, baskets and other creative manner. Order Flowers for Mother's Day within a few clicks and let her also know how much you adore her and will always do.
Our services
If you are planning to do something out of the box for your mother then you are at the right place. Even if you are thousand of miles away from her, send her a flowers bouquet on Mother's Day to tell her you miss the warmth of her love. We promise to deliver your love at her doorstep on time. Customer satisfaction is our solo motive.
Mothers Day Flowers Delivery Online
Products in this category have been rated
4.6
out of
5
based on
149
reviews.
We have a collection of
114
Products
on sale, ranging from INR
445
to INR
3,795