Father's Day Photo-Cake Online
Make your every occasion special with our customizable photo cakes online. Put life in every occasion by adding beautifully designed photos that are edible and visually appealing. Create a life-long memory with MyFlowerTree. Buy the photo cakes for your loved ones and spread happiness galore!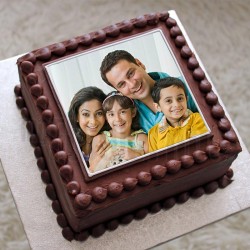 Customized Father's Day Photo-Cakes sent through Online Delivery - MyFlowerTree
There could be nothing more wonderful than celebrating a beautiful day like Father's Day by cutting a Cake. As it is said that a picture speaks a thousand words, we created these stunning Photo Cakes to commemorate those glorious memories that you share with your Father.
These Photo Cakes bear the love that you two have for each other. Available in all the major flavours, these Photo Cakes will make your celebrations grand.
The undefined Love of a Father
How will you define the love that a Father showers upon you?
What a Father does for his children cannot be expressed in words. No matter whether you are a toddler, a teenager, an adult or a parent yourself, a Father will always stand as a strong pillar between your happiness and anything that tries to harm it. A Father is a protector and his job has no holidays or retirement!
Celebrate the Sweet Memories on this Father's Day
Growing up under a Father's guidance, we collect many happy memories. These memories remind us of various incidents that are close to our heart. Such things should be celebrated, especially on a day like Father's Day. Look around and ask yourself, is there anything better than a Cake to celebrate a happy occasion?
The answer is, yes!
With Personalised Gifts for Father's Day, you can make any celebration a hundred times better. We have combined the goodness of Cakes and the feelings of those cherished moments to create Father's Day Photo Cakes which account for the ultimate Father's Day Gifts.
Now you can get your favourite shared memory printed on the Cake and celebrate Father's Day.
You can surprise him with Father's Day Cup-Cakes too. These sweet little bites are amazing.
Range of Custom Cakes for Father's Day by MyFlowerTree:
Why Personalised Gifts?
Personalised Gifts are always considered to be better than the rest. The reason behind this is simple and honest. When you personalise a gift, you add a touch of your emotions in it. This makes it all the more beautiful and intimate. It shows that you haven't just picked up an item randomly. It shows care and love. It makes the recipient feel special.
This time, the recipient is your Father which makes it your eternal duty to make the gifts as warm as possible. So, find a memory that you both feel connected to and get it printed on a Cake to make the best Father's Day gift for your Dad.
Same Day Delivery for Father's Day
At MFT, we understand that emotions are priceless and a loved one shouldn't be kept waiting. This inspired us to give our customers the Same Day Delivery option.
Now you can get these delicious Cakes delivered at the doorstep of your Father as and when you will the best. Order before 5 p.m. and make your Father feel ecstatic on a special day with these amazing gifts
Father's Day Photo-Cake Online
Products in this category have been rated
4.9
out of
5
based on
125
reviews.
We have a collection of
10
Products
on sale, ranging from INR
1,499
to INR
1,990