Father's Day Cupcakes Online
Father's Day Cupcakes Online - A father is someone you can always look up to. Order for our sugary treat with our exclusive range of Father's day cupcakes and show how much you care. Cherish the moments you have spent together with our wide selection of hand-picked cupcakes for your amazing father.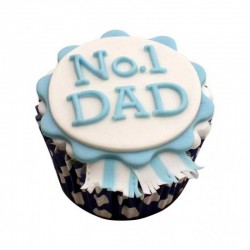 Celebrate Father's Day with CupCakes - MyFlowerTree
A Father is a son's first superhero and a daughter's first love. The way he manages things and makes them all come true inspires his children to be a better person. It is because of his upbringing and belief, we become who we are. We owe everything that we are to our Fathers.
He has always been the pillar in our lives. No matter how old we get or where we are, we always have our Fathers as our protectors. Such an amazing person deserves all the love and care in the world.
On this Father's Day, shower him with FATHER'S DAY SPECIAL CAKES and gifts. Make this Father's day the best one that he has ever had.
Joy of Sharing Cupcakes
Cupcakes are bite-sized goodies that contain the goodness of a giant Cake. With the moist and flavorful muffin as the base and a creamy buttercream frosting, these miniatures of Cakes can give your taste buds the best shock that they have ever had.
Just like Cakes, Cupcakes also come in various flavours. These include the all-time favourites like Vanilla, Pineapple, Chocolate and Strawberry. Whether to have a cream frosting with colourful sprinkles on the top or a chocolate swirl over your muffin; the choice is all yours. In case you want to make it a little personal, you can always go for Fondant Cupcakes. You can get the message you want or a design converted into edible sugar work as the topping for your Cupcake.
Keeping in mind the brilliance of Cupcakes, we have designed a few, especially for Father's Day. With 'I Love you Dad' written on these sweet things, Cupcakes are perfect to be sent to your Father on this special occasion.
Make your Cake Surprise Personal
If you are not satisfied with only messages written over these Cupcakes and want more, we have something in store for you and your Father. FATHER'S DAY PHOTO CAKES are a hit this season. You can get a favourite memory of you and your Father printed on the top of the Cake of your Choice.
Imagine for Father opening the door to such a beautiful Cake that celebrates your bond with him on Father's Day. It will be a joyous and a proud moment for your Father.
Make this Father's Day a day that your hero will cherish forever. It is your turn to thank him for all the sacrifices that he has made for you. Make him feel loved with Cupcakes from MyFlowerTree.
Father's Day Cupcakes Online
Products in this category have been rated
4.6
out of
5
based on
128
reviews.
We have a collection of
26
Products
on sale, ranging from INR
599
to INR
1,099