Fathers Day Flowers and Chocolates
Flowers and chocolates make for a perfect combo. Book this combo online and make your father feel special this Father's day. Choose from our scintillating range of flowers and chocolates, and surprise them with a blend of freshness and sweetness. Buy now!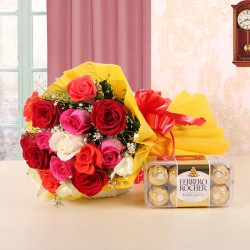 Are you looking for something that will make this Father's Day special?
If you are here then we can say that you absolutely love your Father. We understand that you want to surprise your Dad on an amazing day like Father's Day. At MyFlowerTree, we have everything that you need to make this day amazing. Why don't you start with our special Father's Day Flowers and Chocolates?
A Flower a day keeps negativity away!
Flowers are beautiful, colourful and fragrant and they render all of these qualities in the lives of the ones who touch them. Surprise your Dad with some beautiful Flowers on this special Day. With Roses, Gerberas, Lilies, Carnations, Orchids and Lilies in the store, you have a wide variety to choose from. We also have colours like Red, Yellow, Blue, Pink, Orange, White and Purple to add some Colours in the life of your Dad. So, Order Flowers for Father's Day now!
If you want to make these Father's Day Flowers extra special, you can team them up with Cakes. Black Forest, Pineapple, Vanilla, Strawberry, Cheesecake, Chocolate Truffle, Fruit, Mango and fondant; there are so many varieties to choose from. These combos of Flowers and Cakes for Dad are what you should order for this year's Father's Day celebrations.
Adding lots of sweetness in the life of the best Hero in the world with Chocolates
Chocolates are everyone's favourite. No matter what the occasion is, receiving them is always a delight. To make your Father's Day celebrations sweeter, we have some special Father's Day Chocolates.
Other than the all-time favourites like Kit Kat, 5-Star, Dairy Milk and more, we have some international chocolates like Ferrero Rocher, Lindt and Mars bars for your Father. If you think that this is it, then, you are mistaken. We know how important Father's Day is, that is why we have something rather amazing for your Dads. We have a huge collection of Chocolate Bouquets, Chocolate Towers, Box of Assorted Chocolates, Packs of Homemade chocolates and special Father's Day Chocolates with messages writer on them. These are sure to make your Father feel ecstatic.
Special Delivery for Father's Day
We know that you do not want to miss any opportunity to make your Father happy. So, we have various types of Deliveries to make sure that every Father receives his Father's Day gifts. There is remote city delivery for the Fathers living in faraway places, international deliveries for the Fathers living abroad and Same day delivery to surprise a father instantly!
Fathers Day Flowers and Chocolates
Products in this category have been rated
4.7
out of
5
based on
131
reviews.
We have a collection of
52
Products
on sale, ranging from INR
595
to INR
2,745