Father's Day Coffee Mugs Online
We have a wide spectrum of mugs with personalized photos and quotes for Father's day. All our mugs will be customized as per your request and will be delivered to your wonderful dads with timely, hassle-free delivery. Order now and make beautiful memories with MyFlowerTree.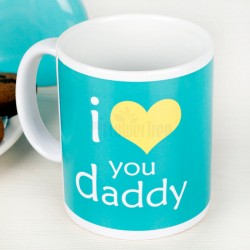 Personalised Coffee Mug For Dad on Father's Day 2017
Father's Day is just around the corner which means that the search for that perfect FATHER'S DAY GIFT will be on. We will go store hoping and go through various websites but wouldn't be able to find everything at one place. But with MyFlowerTree, all your gifting woes will vanish in a jiffy!
We know how much you love your Father and that is why we have created an entire range of Father's Day special gifts and one such creation is our Personalised Coffee Mugs for Dad.
A Mug for every Father
We know how much our Fathers love their morning Coffee or their evening cup of tea. For such connoisseurs of beverages, we have lined up an entire range of special Mugs. Available in different colours and prints, these Father's Day Mugs have the best messages to make your Father feel on top of the world.
You can make these already amazing Mugs extra special by personalising them. Find that one memory that you and your Father have created together. Get this cherished memory printed on a Mug and send it to surprise your Father. Also, if you want to convey a special message to your Father, you can get that printed too on one of these beautiful Mugs.If you though that this is it, you are wrong. You can team these Mugs with Flowers, Cakes, Cushion and Other Personalised Gifts.
For your Father, these Mugs will be like trophies that his favourite people have given to him.
Mugs, Cakes, Flowers and More For Dad
We know how much you love your Dad which inspired us to go a step beyond and bring you the gifts which will make this Father's Day amazing for the both of you.
Other than the freshest Flowers and the most delectable Cakes, we have some amazing other goodies like Father's Day Chocolate Bouquet too. With Bouquets made with all-time favourite Chocolates like Ferrero Rocher, Cadbury's DairyMilk and 5-Star Chocolates.These Bouquets are not only gorgeous to look at but amazing to eat too. Other than Chocolate Bouquets, we have Chocolate Towers too. Now you can give your Father the best Father's Day Surprise this year.
When you have all these amazing Gifts at your dispense, it is easier to make Father's Day grand. Surprise the one who has devoted his life to you in a way that he would remember for the rest of his life.
Father's Day Coffee Mugs Online
Products in this category have been rated
4.6
out of
5
based on
115
reviews.
We have a collection of
35
Products
on sale, ranging from INR
345
to INR
945