Mothers Day Mugs & Cushions
On this special day, let your mom know that she's the queen of your heart. You have considered her as world's best mom. Find personalized mugs and cushions on this occasion and plan a beautiful surprise for her. Shop for perfect gifts from MyFlowerTree and send them. Buy now and make her day wonderfully amazing.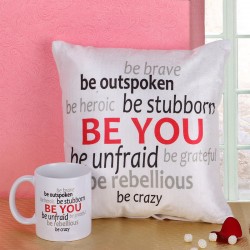 Total Products: 32
Show:
Sort By:
Mother's day is the time to shower our love on that person whose world revolves around us. The job of a Mother has many strings attached to it. It is very demanding and offers no off or vacations. From day to night and even after that, a Mother wants the best for her children. With Personalised Gifts For Mums, surprise your special angel on this Mother's Day.
We all know how much our Mother's love their morning coffee and their evening teas. Surprise her with a Personalised Mother's Day Mug to add a touch of your love to her favourite beverages. These Mother's Day Mugs are one of a kind. They are made keeping the essence of the nature of a Mother. With beautiful quotations and adorable prints, these Mother's Day Mugs are one of a kind.
Other than the quotes and prints, with our Personalised Mother's Day Mugs Collection, you can get the name and photographs of your Mother printed on the delicate ceramic mugs. She is going to love having something just for herself. No matter what she is drinking, she is going to enjoy having in these amazing Mugs.
There is an added advantage if you Order Mother's Day Mugs from MyFlowerTree. You can order them while sitting at your home. With just one click, you can SendMother's Day Mugs Online and enjoy the special day with your Mother.
Waking you up, making your breakfast, packing your lunch, helping you with your homework, being your support when your boss is rude, making sure that you eat right and sleep on time, taking care of the entire house; your Mother does it all without any complaints or demands. So, why gift her just a Mug on a day that is dedicated just to her?
Give your Mother's Day Gift a power boost by adding Mother's Day Cushions to it. Don't just wish her with one gift because two are always better than one. These cushions are just as great as those ceramic mugs. These are specially made for our special ladies. Send Personalised Mother's Day Gifts to your Mother on Mother's day with MyFlowerTree and make it a memorable day for her.
With our beautiful collection of Personalised Mother's Day Gifts, celebrating this day with the one who gave life to you will become extra special.
MyFlowerTree is the best online shopping store that comes up with amazing gift ideas for all the occasions. We understand that gifts are tokens of love that you want to send to your loved ones on special occasions and we take immense pride in saying that we make every day amazing for your loved ones with our gifts. We have a wide range of flowers, cakes and other gifts. Whether there is an anniversary, birthday, Diwali, rakshaBandhan, mother's day, father's day, friendship's day, Christmas or New Year's celebrations, our gifts will further the charm of every event.
Not only this, our customer care executives are dedicated to give you the best services. No matter what the time of the day is, they will always be enthusiastic about assisting you. You can rely on our products and services if you want to make any occasion exciting.
Summary: Mother's day is a special occasion. We get to show our Mothers how special they are for us and how much we love them. Celebrate this day by sending special gifts, Mugs, and Cushions to your Mother. Order a gift for your Mother from MyFlowerTree and make her proud for raising wonderful children.

Mother's Day is just around the corner and we have 7 ideas how you can make it amazing, Cakes are an essential part of every celebration. Wherever there is a celebration, there is a cake. Birthdays, anniversaries, New Years, Christmas, weddings and many more occasions feel incomplete without cakes...Read More

Happy? Sad? Emotional? Cheerful? Excited? No matter what your feelings might be, you will always find two things around yourself to celebrate them; a Mother and Flowers! Mothers and Flowers are very similar in nature. They both are nature's gifts to mankind. They make everything look so easy. Read...Read More