Mothers Day Cakes Online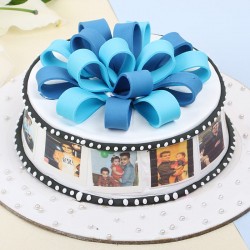 Total Products: 82
Show:
Sort By:
Deliver Mother's Day Cake Online
Cakes are a great way to celebrate happiness. And, what could be a happier occasion than celebrating the joy of motherhood?
The Richness of the cream and Softness of the sponge are a few synonyms that describe the demeanour of a mother. Cakes are dense yet gooey, just like a mother who is tender when it comes to caring and strict when it comes to discipline.
Deliver Mother's Day cake Online to that special person who made our existence feel so special. With a range of delectably prepared Cakes for Mother's Day, you get the freedom to select the one which is your Mother's favourite.
If you are still in a dilemma, let us brief you about some of the most popular variety of Cakes which are just perfect for Mother's Day.
Let us start with the humble Pineapple cake which is light, frothy and has just the right amount of sweetness in it. It is the safest choice if you are not very sure about the flavour that your Mother likes because this goes down well with one and all.
Black Forest Cake, a cake that has been an absolute favourite of everyone for a very long time. It represents the dense forests of Germany. The rustic chocolate shavings on the bed of soft whipped cream make it a great Mother's Day Cake
The Dark Chocolate Cake is densely rich with the goodness of chocolate. From the sponge to the frosting, the best quality chocolate has gone into its making. This is a good option not only because it is the best but also because Mothers love chocolates.
Cheesecake is something that has come as a blessing to the mankind. If your Mother likes a cake that is flavoursome and creamy enough that it just melts in the mouth, a cheesecake would be the best choice. You can have it made in any flavour that she prefers.
Red Velvet Cake has gained popularity recently. The beautiful colour combination of red and white looks very pure and exudes the feeling of love. This will definitely bring a smile on the face of your Mother.
If you want to send a message or do something more special than simply sending a tasty cake, choose a fondant cake. Choose your Mother's favourite flavour and let the fondant design do the talking.
Send a Cake on Mother's Day from an even wider variety of cakes available on our website. Order Mother's Day cake online and cut it to celebrate the joy of being children of a great Mother.
Mother's Day is just around the corner and we have 7 ideas how you can make it amazing, Cakes are an essential part of every celebration. Wherever there is a celebration, there is a cake. Birthdays, anniversaries, New Years, Christmas, weddings and many more occasions feel incomplete without cakes...Read More

Happy? Sad? Emotional? Cheerful? Excited? No matter what your feelings might be, you will always find two things around yourself to celebrate them; a Mother and Flowers! Mothers and Flowers are very similar in nature. They both are nature's gifts to mankind. They make everything look so easy. Read...Read More