Mothers Day Green Plants Online Delivery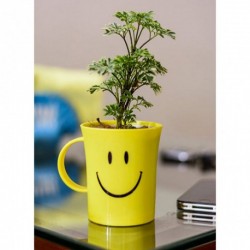 Total Products: 28
Show:
Sort By:
Wish Mother's Day with Green Plants
A mother not only plays the role of your mother. She has to fulfill hundred other responsibilities. Besides being your mother she is a homemaker. She takes care that her home is decorated well, she keeps a record of availability of necessities of all family members and many other things she do to make life perfect for you. To be precise, she is the heart of home.
MyFlowerTree wants a happy heart for every family. That is why we have come up with exclusive collection of green plants for all the mothers out there. Not only will they help her in decorating her space but will also carry positivity along with them. Her radiance and charm lights up every house and freshness of green plants strikes out stress and anxiety to make her even livelier.
Place your order
Send green plants on mother's day within no time, as you no more have to loiter through nurseries to find a perfect plant to gift to your adorable mom. It's all under one umbrella now. MFT has a wide collection of distinct species of plants. All you need to do is to find out your mom's favourite and place your order online and get the delivery of special mother's day plants at your doorstep. Make the celebrations different with these uncommon and unexpected Gifts For Mother's Day.
Our services
Green plants apart from being a treat to eyes also are the carriers of physical well being as they reduce blood pressure, muscle tension, heart rate and stress level. We wish well being of your beloved mother. So, freshness and quality of plants is our guarantee. Browse the user friendly website of MFT, place your order and tell us when you want them delivered. Your love and affection will reach her on time.
Mother's Day is just around the corner and we have 7 ideas how you can make it amazing, Cakes are an essential part of every celebration. Wherever there is a celebration, there is a cake. Birthdays, anniversaries, New Years, Christmas, weddings and many more occasions feel incomplete without cakes...Read More

Happy? Sad? Emotional? Cheerful? Excited? No matter what your feelings might be, you will always find two things around yourself to celebrate them; a Mother and Flowers! Mothers and Flowers are very similar in nature. They both are nature's gifts to mankind. They make everything look so easy. Read...Read More