Women's Day Combos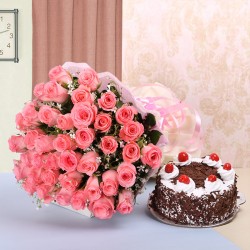 Total Products: 80
Show:
Sort By:
Deliver Combos for Women's Day
Here is a chance to nourish your relationship with women in your life who makes a difference in it in the slightest way possible. You might be celebrating Mother's Day, Sister's Day or Valentine's Day every year but Women's day is a day to acknowledge the efforts of those women who make your lives simpler without even having some defined relationship with you. On this International Women's Day make your love and care evident by gifting her sweetness wrapped along with some Combos from MyFlowerTree. Be thankful to every lady, as you don't know what struggle she fights every day without even showing a sign of difficulty.
You need not give it a second thought before ordering Combos as a gift for any age group. They have that irresistible aroma in them which makes everyone dazzled towards them.
Order from MFT
Send Combos on Women's day by ordering them online from MFT. We have a collection of some of the best Combos that will make your loved one adore you even more after having them as a gift from you. To add up the excitement you can even order a bouquet of chocolates, a basket of chocolates or make a combo by adding more gifts to it from our cart. Your love will be delivered along with the delivery of chocolates on this International Women's Day.
Our services
With our professional and experienced staff we assure unique ideas of gifts with some ordinary items at cost effective price only. Our customer support system addresses your problem timely and ensures your cent percent satisfaction. No worries even if you skipped an important date, we can still make it special with our same day delivery service.
International women's day celebrated every year on March 08 is a day to recognize the contribution of God's supreme creation 'women' in making this world a beautiful space to live in. Though a single day is not enough to celebrate womanhood but at least for one day people can thank them for ...Read More

Irrespective of our caste, gender, race and/or orientation, this world belongs to all of us. Prejudices aren't mixed in our blood by the supreme power but taught to us by the society. One such prejudice is about women. It is believed that women are emotional fools who are physically and mentally w...Read More