Fathers Day Chocolates
We have a huge collection of Father's day chocolates for you to choose from and send to your father on the occasion of Father's day. We are here to give you a sugary reason to thank your father on this special day and astonish them even more.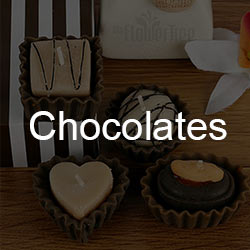 Father's day- Chocolates as a Gift – MyflowerTree
Father's day is a day of delight and revelry. What better way to highlight the eloquence and austerity of this joyous and delightful event than by displaying your affection and reverence towards your father with the finest quality, sweet tasting delight that we all love and cherish – chocolates.
The joy of chocolates
Chocolates are renowned and loved by all. Nothing can replicate the cream filled yummilicious ecstasy if you wish to pamper your taste buds. MyFlowerTree understands this and has dedicated itself to bring the best and the most delicious assortment of chocolates. Obtain and deliver these elegant sweet tasting delicacies of the highest quality through our specially stocked online store.
Coming in every imaginable variety, chocolates differ in a great degree of taste, shape, and size. Packaged to perfection with variances in combinations and flavors, MyFlowerTree maximizes the quality of the chocolaty goodness while ensuring total customer satisfaction at all levels through multitudes of customer assurance initiatives and a guarantee in speedy and accurate delivery.
The pristine austerity and the opulence of the gift presented to him in the form of a box of chocolates is guaranteed to strike an accord with your father. Enamor and enrapture his senses through perfect quality chocolates, as it gets delivered online straight at the comfort of your residence, all at the few taps of a button. A unique assortment of every variety is readily available to further this design.
Some of the categories and designs pertaining to chocolates include –
Chocolate bars
Ferrero Rocher Chocolate balls
Chocolate bouquets
The chocolate flower combo pack
Chocolate Spoons
Vanilla Chocolates
It is recommended that the buyer must explore every selection before making their choice and placing the order confirmation.
Obtaining the sweet delights on Father's day
Myflowertree robust online delivery platform is seen as the very best in terms of speed, reliability, and efficiency. Ever since the year 2009, MyFlowerTree has been consistently providing the best delivery services for all its products. Whether it is plants for Father's day, or the highly sought out and coveted Father's Day Desk Accessories, MyFlowerTree ensures flawless delivery alongside unmatched speed and efficiency. Order from MyFlowerTree now and get the best chocolates online, as it gets delivered with speed and precision at the behest of a few clicks.
With a collection of over a 100 Gifts exclusively in the honor of Father's Day on sale, ranging at a reasonable range of prices from INR 299 to INR 5995, who could resist this!
Products in this category have been rated
5
out of
5
based on
116
reviews.
We have a collection of
57
Products
on sale, ranging from INR
295
to INR
6,950