Send Fathers Day Flowers and Cakes Online
Pair the irresistible cakes with our freshest range of flowers and send them to your father without any troubles with MyFlowerTree. We aim to enhance customer experiences at all times. Give your father a wonderful surprise with our Father's day flowers and cakes.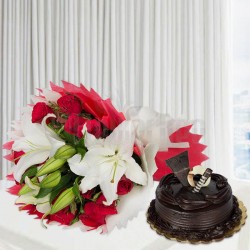 Flowers and Cakes for Father's Day
Think about that one man in your lives, who never lied to you, broke your trust and stood like a pillar to support you. We are sure that you all must be thinking about your Fathers. A Father is that amazing person who loves you to the moon and back and expects for nothing in return. Though we can never repay for what he has done for us but in lieu of Father's Day, we have an opportunity to thank him for his love. So, celebrate this Father's Day with special Flowers and Cakes from MyFlowerTree.
Let the Love Blossom on this Father's Day
We often associate our Mothers with Flowers because of their soft heart and fail to address the love that a Father showers upon his children. On this Father's Day, surprise your Dad with Father's Day Flowers & Gifts.
We have a Flower for every kind of Father. Roses for the one who shares his emotions with his children, Gerberas for the fun loving Dads and Carnations for the sweet Dads. You can show your gratitude to him by sending some beautiful Orchids and Lilies to him.
Other than the species, we have various colours too which includes Red, Blues, Pink, Orange, Yellow, White and Purple. All the Flowers come straight from the freshest farms from around the world and being the best Online Florists, we make sure that they are arranged in the most beautiful, especially for your Dad.
You can get Father's Day Flowers Online with just a click
A creamy and sweet touch to the Father's Day Celebrations
We cannot think of any occasion that can be celebrated without Cakes. On this Father's Day, surprise your Father with delicious Cakes. Our Father's Day Cakes Collection has some all-time favourites like Vanilla, Chocolate, Pineapple and Strawberry. We also have some exotic Cakes like Truffle, Fruits, Mango, Cheesecake and fondant Cake. We have some special Personalised Cakes for your Dad. You can get a quote of your choice or a photograph printed on a Cake to make it perfect for Father's Day.
A little bit of Both, Perfect Father's Day Combo
Make your Father the happiest on this Father's Day with these amazing Flower and Cake Combos. We thought about creating the best Father's Day gift so we put together our best products.
Chocolate Cake with Red Roses, Vanilla Cake with Yellow Gerberas, Truffle Cake with Pink Carnations and many more such combos are here to make your Dad the proudest Father in the world.
Send Fathers Day Flowers and Cakes Online
Products in this category have been rated
4.8
out of
5
based on
146
reviews.
We have a collection of
38
Products
on sale, ranging from INR
995
to INR
2,695