Fathers Day Green Plants
Send green plants on the day dedicated to all fathers. Since it's Father's day, we give you the opportunity to buy green plants online and send them to your dads and make them feel special at all times. Green plants are the best thing to gift to your dads. So pick the ideal one and gift it to your father this Father's day.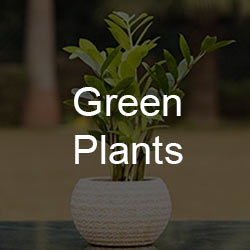 Beautiful Green plants for Father's day
Fathers and green plants are the two very things that congruously support the fabric of humanity. Working in tandem, they instill a sense of austerity and tranquility throughout their surroundings, working tirelessly day in and day out, while asking for nothing in return but the satisfaction of their peers.
Nothing can compare to the paragon of selflessness that they represent. What better way to emphasize that than to present your father with the very image of the endearing devotion and self-sacrifice in the form of the natural elegance and beauty of a green household plant.
De-stressing and relieving encumbrance, green plants are not just a joy and delight to sooth your weary father, but also a natural feast to please his eyes. Additionally, green plants are also proven to be natural air fresheners, purifying and augmenting the natural state of air, for all including your beloved father.
Delivery and services
Nothing can match the joy and delight on your father's face as you bestow upon him the Father's Day Gift of a freshly potted green plant. A variety of these joyous green plants are available at MyFlowerTree all-exclusive collection.
We offer a wide assortment of freshly potted plants, specifically to cater to the taste and magnanimity of your beloved father.
Buyers may browse through and order from a smorgasbord of choices and have it delivered at their location, all at the behest of a few clicks.
MyFlowerTree expert delivery agents ensure that the green plant chosen by the customer is delivered swiftly and reliably to the designated place. While finding that perfect green plant for Father's Day, you can always get in touch with our expert executives to help you make a choice.
Getting the best variety of green plants and flowers for your dad on father's day was never this easy!
Products in this category have been rated
4.8
out of
5
based on
122
reviews.
We have a collection of
27
Products
on sale, ranging from INR
0
to INR
3,645