Personalised Mugs and Cushions for Father's Day
Relive the special memories with your dad with our extensive range of personalized mugs and cushions for your cool father. With MyFlowerTree, you get to choose from a plethora of mugs and cushions with best quality printing. We specialize in same and midnight delivery.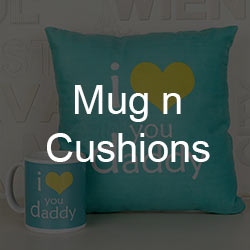 Something Soft and Something Tough for the best Dads in the World
A Soft Cushion and a stylish Coffee Mug is something that every Man wants. With a little creativity, these can be made perfect to be sent as Gifts to a loved one. Since Father's Day is just around the corner, why not customise these Mugs and Cushions to make them the best Fathers day Gifts?
MyFlowerTree has created an entire range of Father's Day Special Mugs and Cushions to make the celebrations of a beautiful bond more exciting. These Mugs and Cushions have special Father's Day inspired designs and messages which are sure to make your Dad feel proud.
A Step more towards the perfect Father's Day Gift
If you want to make these Mugs and Cushions extra special for your Dad, ask us to personalise them for you and for your Dad. Just send a photo of your choice or any message at support@myflowertree and we will print those photos and messages on our amazing Mugs and Cushion.
By rendering a personal touch to these adorable Mugs and Cushions, you are making them better. Your Father will get to know how much you love him with these goodies.Not just this, there is one more special thing that you can do to make this Father's Day special for your Dad. Instead of sending a Mug or a Cushion, send a Combo to him that contains both of these amazing gifts. It would double the fun of receiving the Father's Day Gift
We have more in-store for you
If you are looking for some Gifts Ideas For Father's Day, we have quite a few for you. With Flowers like Roses, Carnations, Lilies, Orchids and Gerberas and Flavours of Cakes like Black Forest, Chocolate, Pineapple, Vanilla, Chocolate and Strawberry; you are sure to give your Father the greatest surprise on this Father's Day.
Our Father's Day special gifts collections isn't restricted to Mugs, Cushions, Flowers and Cakes, there more on the website that your Father is sure to appreciate. Breathe some freshness in his life with special Father's Day Green Plants, organise his desk with Desktop accessories and add some sweetness to the day with Father's Day special Chocolates.
Special Father's Day Delivery
We understand how much you want to make Father's Day special for you and how every person has his or her own timings, you can choose from our various deliveries which suits you and your Father and send your gift to him.Just choose from our Same Day delivery, Fixed Time delivery or Mid Night Delivery options and we will deliver your Gifts according to your time and convenience.
Personalised Mugs and Cushions for Father's Day
Products in this category have been rated
4.9
out of
5
based on
132
reviews.
We have a collection of
66
Products
on sale, ranging from INR
345
to INR
2,695