Send Rakhi Thali Online
A Pooja ki Thali is just as important on Raksha Bandhan as the Rakhi. A Sister carefully decorates the Pooja ki Thali for this festival. This year, order your Pooja ki Thali from MyFlowerTree and leave it on us to make this day special. With Roli, Chawal and all the essentials, your Thali would be ready.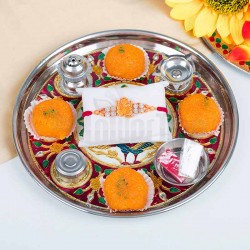 Designer, Traditional, Home Made, Fancy Rakhi Puja Thali Online India
Raksha Bandhan is one of the purest festivals. It celebrates the bond between a Brother and a Sister. It brings them closer. No matter where they live, their love will always make them feel closer to each other.
Raksha Bandhan is one of the oldest festivals celebrated by the Hindus. It is believed that it originated at the time of the Pandavas when Draupadi tied Rakhi to Shri Krishna. A Pooja ki Thali plays a very important role while celebrating this auspicious festival.
Rakhi with Pooja Thali by MyFlowerTree
With a Pooja ki Thali, a Sister wishes the best for her Brother. Our Pooja ki Thali contains everything that you will need for Raksha Bandhan. It has Roli, Chawal, Rakhi, Sweets and some Dry Fruits.
Order one from MyFlowerTree to avoid last minute mistakes. Touch your traditional roots with these Pooja ki Thalis.
Raksha Bandhan Gifts for Brother
On this Raksha Bandhan, surprise your Brother with special gifts. Have a look at our Collection of Flowers which includes beautiful and Fragrant Roses, Lilies, Orchids Carnations, Gerberas and Birds of Paradise. We also have amazing Cake flavours like Black Forest, Chocolate, Strawberry, Pineapple, Mango, Coffee Caramel, Cheesecake, Chocolate Truffle, Ferrero Rocher, Coffee, Caramel, Kiwi, Fruits, Oreo and many more.
If your Brother likes Chocolates, then we have KitKat, DairyMilk Fruit and Nuts, Temptations, 5Star, Lindt, Ferrero Rocher, DairyMilk Silk, DairyMilk Oreo, homemade Chocolates and Assorted chocolates just for him.
Don't forget to check out our collection of Raksha Bandhan special Mugs and Cushion which you can get personalised as well.
Raksha Bandhan Rakhi collection
If you are looking for some Rakhi Threads for your Brother, we have exactly what you need. We have the most amazing Rakhi for Brothers. We have beautiful traditional Rakhis and Lumbas along with many Fancy Rakhis like Silver Rakhi, Pearl Rakhi, Kundan Rakhi and Silver Rakhi Bracelets.
We also have amazing Rakhis for Kids with characters like Doreamon, Shin Chan, Bal Ganesha, Spiderman and Super Man on them. Whether it is for your little brother or older one, they all are going to love these Rakhis.
Rakhi Thali Online
If your Brother doesn't live close to you, you can Send Rakhi Thali Online to him with MyFlowerTree.
Send Pooja Thali to Chennai, Tamil Nadu, West Bengal, Rajasthan, Punjab, Haryana, Puducherry, Karnataka, Hyderabad, Chandigarh, Bihar, Jharkhand, Jaipur, Himachal Pradesh, Uttrakhand, Nainital, Assam, Kerala, Uttar Pradesh, Mumbai and Delhi.
Products in this category have been rated
4.8
out of
5
based on
136
reviews.
We have a collection of
4
Products
on sale, ranging from INR
1,045
to INR
1,395
The joy of Rakhi is endless. It is a single day in an entire year dedicated to the joyous brother-sister bond that ties the two together. Witness the delight on both their faces as the sister's ties the sacred thread on her brother's wrist. This joy is reciprocated by him as he showers her with...Read More

The day of Raksha Bandhan is always special. The air of joy and delight of the beautiful brother-sister bond is propagated throughout the family. Witness the joy as the sister ties the sacred thread of Rakhi on the wrist of her brother, expressing her incomprehensible gratitude to him for always bei...Read More

The day of Raksha Bandhan may last for only a day, but the joy lingers on for a long time. The highlight of this special once in a year day is the event of a sister tying the sacred thread of Raksha Bandhan on the wrist of her beloved brother, thanking him for always supporting her, no matter what....Read More