Mothers Day Chocolates Delivery Online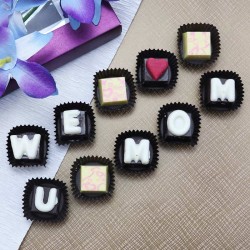 Chocolates for Mother's Day is a Great Idea
Mother, a person who starts loving you even before you are born and continues to shower you with affection, that grows stronger, till the end of the time. A heart full of care and warmth is biologically fixed in her that refuses not to make you her centre of the Universe.
We children work very differently than the Mothers. Yes, we love her, but we often get so occupied in our own world that we forget about the one who makes it possible for us to function well. Mother's Day is just a gentle reminder that gives us a chance to appreciate the beauty of the love that a mother bestows on us.
Although what we do can never even come close to what she has already done for us, but with some simple gestures, we can tell her how proud we are to be her children. A box of chocolates is a subtle way to appreciate her sweetness.
Chocolates for Mother's Day is a great idea as they are as soft as her heart, soothing like her hugs, tempered as her balanced nature and homely like her touch.
Buy Mother's Day Chocolates from MyFlowerTree where you will find a wide variety of these tempting commodities. You can choose a perfect box of Mother' day Chocolates that suits her personality. From a selection of assorted delicacies to the humble Cadbury's, all the Chocolates for Mother's Day are available with us.
Our wide range of Mother's Day chocolates includes various chocolate hampers, handcrafted chocolate boxes, chocolate bouquets, homemade chocolates and chocolate combos for pockets of all sizes.
All Mothers share one thing in common, that is, Love. But, they are all very unique in their own way. So, if your mother is the bold type, buying dark chocolate with a kick of intensity will be a good idea. For the ones who are humble, milk chocolates will do good for them. For the ones who like change, chocolates with nuts or wafers will make an excellent choice. For those who are strong on the outside and soft inside, a centre filled chocolate will be a perfect representation. And, for those who are a mixture of every feeling out there, a box of assorted chocolates will be the best option.
Still thinking? With Mother's Day Chocolates Delivered Online, you have no reason to procrastinate it anymore. With just some clicks you can Send Mother's Day Chocolates at your home's comfort. And don't worry, everything will be delivered with big smiles.
Mothers Day Chocolates Delivery Online
Products in this category have been rated
4.6
out of
5
based on
147
reviews.
We have a collection of
46
Products
on sale, ranging from INR
295
to INR
2,950