Mothers Day Gifts Deliver Online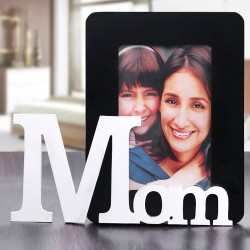 Total Products: 153
Show:
Sort By:
Send Gifts for Mother's Day
When God created the Earth, He enriched its soul with a gift that nurtures and protects. This gift then took the form of a Mother making Motherhood the best gift ever bestowed on Human Beings.
A Mother becomes our personal God looking after our needs from the very beginning of our existence. Not a day goes by when she doesn't make things easy for us. Words can never be enough to express how blessed we feel to have her in our lives.
Mother's Day comes as a special occasion where we get to gift something special to the greatest gifts of them all. To cherish the bond that we adore deeply.
With MyFlowerTree, selecting a Gift for Mother's Day becomes a great experience as you get to choose from a wide variety of Mother's Day gifts that are Delivered Online. Our range includes products that were created keeping the essence of motherhood in the mind.
From photo frames to adorn the memories that you created with her to the special clocks, all the gifts carry the trademark notion of the spirit of Mother's Day.
Our assorted range of gifts includes candles to erase any darkness from her life, chocolates to make everything sweeter for her, perfumes to fill her aura with fragrance, beauty products to further her charm, watches because her hands need something special, cushions to make her sleep comfortably, special brews and aromatic oils to lift her spirits, mugs so she can enjoy her tea or coffee, accessories because every woman needs some and teddy bears because she deserves warm hugs. We Deliver these Mother's Day Gifts straight from the heart.
To make it more special, send gifts on Mother's Day from our Combo Section. Every hamper resonates balance and contains products that will be not only be loved but also be useful to the mothers. These hampers come in different sizes allowing every child to gift their mother something special without burning a hole in the pocket.
MyFlowerTree has made it very simple to find that perfect Mother's Day gift for the special ladies. Without sweating much, all you need to do is to browse through our website, select a gift that suits your mother, add it to the cart and easily send Mother's Day Gifts Online.
Mother's Day is just around the corner and we have 7 ideas how you can make it amazing, Cakes are an essential part of every celebration. Wherever there is a celebration, there is a cake. Birthdays, anniversaries, New Years, Christmas, weddings and many more occasions feel incomplete without cakes...Read More

Happy? Sad? Emotional? Cheerful? Excited? No matter what your feelings might be, you will always find two things around yourself to celebrate them; a Mother and Flowers! Mothers and Flowers are very similar in nature. They both are nature's gifts to mankind. They make everything look so easy. Read...Read More