Buy Set of 3 Rakhi Online
If you are a proud Sister of 3 Brothers and are looking for beautiful Rakhis for all three of them then you have come to the right place. We have perfect Sets of 3 Rakhis that are bound to make all three of them feel special. On this Raksha Bandhan, make them feel special with our Rakhis.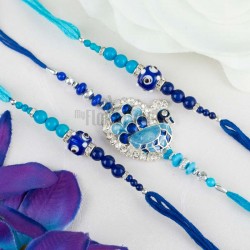 Special Raksha Bandhan Rakhis for three Brothers
Raksha Bandhan has almost arrived which means all the caring sisters would be out on the street looking for a perfect Rakhi for their Brother. This year, you don't need to go anywhere as all your Raksha Bandhan needs will be taken care at one place, that is, at MyFlowerTree. If you are a proud sister of three Brothers and you want to give all of them an amazing surprise on this Raksha Bandhan, you can do that with ease. Order for a Set of 3 Rakhis from MyFlowerTree and your Rakhi hunting is done!
Different Rakhis at MyFlowerTree
Every sister wants to tie the best Rakhi on the wrist of her Brother, for this she goes everywhere. Well, when you shop from MyFlowerTree, you don't need to go anywhere. We have amazing Designer Rakhi for this amazing festival. It includes are exquisite collection of Silver Rakhis, Kundan Rakhis, Pearl Rakhis, Bracelet Rakhis, Traditional Rakhis, Lumba sets and more.
All the Rakhis are available in the set of 2, 3, 4 and 5. You can even buy a single Rakhi for your Brother. All the Rakhis are beautiful and will make this day amazing.
Online Gifts for Raksha Bandhan
Only sending Rakhi to the Brother will not work on this Raksha Bandhan. Take an extra step and send a special Raksha Bandhan Gift to him. He is going to love you even more. At MyFlowerTree, you will find the best Raksha Bandhan Gifts including beautiful Flowers, Delicious Cakes, smooth chocolates special Mugs and Cushion, personal grooming items and more.
If you want to send your wishes in a special way to your Brother, you can do so if you Send Rakhi with Greeting Cards. This way, you will be able to express your feeling for him.
You can also Rakhi with sweets to your Brother. We have all-time favourite sweets like Gulab Jamun, Rasgulla, Rasberi, Gandheri, Kesari Petha, Kaju Katli, Soan Halwa and more just for the Brothers. You can also surprise him with Dry Fruits. Wish your Brother with Rakhi and some amazing Dry Fruits on this Raksha Bandhan. We have special Thalis of Almonds, Cashew nuts, Pistachios, Walnuts and Raisins.
Go online on this Raksha Bandhan
On this Raksha Bandhan, send Rakhi Online to your Brother.
With us, you can send Rakhi to Haryana, Gujarat Chennai, Delhi, Puducherry, Kerala, Punjab, Rajasthan, Delhi, Mumbai, Assam, and everywhere else.
You can even send Rakhi to USA, Dubai, France, London, Africa, Australia or any other country
Buy Set of 3 Rakhi Online
Products in this category have been rated
4.8
out of
5
based on
134
reviews.
We have a collection of
12
Products
on sale, ranging from INR
295
to INR
645
As soon your kids turn 5, and it's their 5th birthday celebration, their idea and wishes for their birthday celebration, cake and gifts change significantly. Gifts are still manageable but 5th birthday cake has to be really special....Read More

Shopping for a Valentine's Day gift for your wife can be a lot different, if she is expecting. A new member is joining your family, so it deserves a grander gift than you would otherwise gift. If not grander, it has to be sweeter and thoughtful. The traditional Valentine's Day gifts will not do....Read More

Valentine's Day is just around the corner, and stores are already filled with the gifts. From mugs, cards and teddy bears to other personalized Valentine's Day gift, you will find them all in stores as well as online portals....Read More