Send Set of 5 Rakhis Online
What could be better than having 5 Brothers? The attention and care that you enjoy is not given to everyone. We understand how difficult it can be to find a special Rakhi for each one of your Brothers. That is why we have made some wonderful Sets of 5 Rakhis with one special Rakhi for each one of them.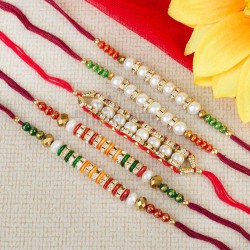 Get ready for Raksha Bandhan with MyFlowerTree
The time has come to get ready for the beautiful festival of Raksha Bandhan. This beautiful festival that signifies the beauty of the relationship that a Brother and a Sister share. If you have 5 Brothers to celebrate this day with, you are surely a very lucky Sister.
Buy Rakhi for your Brothers from MyFlowerTree. We have out some of the best Rakhis together to create amazing sets of 5 Rakhis. Every Rakhi in these sets is special and carefully selected. All of your Brothers are going to feel special with these Rakhis.
Different Rakhis for all the Five Brother
We know that you want something special for each of your Brothers. This is why we have made sure that we deliver the best Rakhis to you. We have many types of Rakhis that make a complete set of 5 Rakhis. We have an exquisite collection of Silver Rakhis, Kundan Rakhis, Pearl Rakhis, Bracelet Rakhis, Traditional Rakhis, Lumba sets and more..
Online Gifts for Raksha Bandhan
We understand how difficult it can be to look for the perfect Gift for all the 5 Brothers. With MyFlowerTree, this problem will vanish in a second as we have everything that you need for this festival. Our Raksha Bandhan gift items include fragrant Flowers, mouth-watering Cakes, silky chocolates, special Mugs and Cushion, personal grooming items and more. You can ever send a personal message to your Brother along with a Rakhi by sending a Greeting Card along with a Rakhi. This way, you will be able to express your feeling for him.
Go traditional way and send Rakhi with Dry Fruits to your Brother on this Raksha Bandhan. We have special Thalis of Almonds, Cashew nuts, Pistachios, Walnuts and Raisins. You can also Rakhi with sweets to your Brother. We have all-time favourite sweets like Kesari Petha, Kaju Katli, Rasgulla, Rasberi, Soan Halwa, Gulab Jamun, Gandheri, and more just for the Brothers.
Buy Rakhi and Gifts online on this Raksha Bandhan
On this Raksha Bandhan, complete your Raksha Bandhan shopping online with MyFlowerTree.
With us, you can send Rakhi to major Cities like Delhi, Chennai, Haryana, Mumbai, Bangalore and more but along with these major cities, you can send Rakhi to small areas as well. Send Rakhi to Noida and near areas easily.
Send your Raksha Bandhan gifts abroad as well. Send Rakhi to UK, Germany, France, America, Canada, Dubai, Australia and more with MFT.
Send Set of 5 Rakhis Online
Products in this category have been rated
4.7
out of
5
based on
141
reviews.
We have a collection of
8
Products
on sale, ranging from INR
445
to INR
845
As soon your kids turn 5, and it's their 5th birthday celebration, their idea and wishes for their birthday celebration, cake and gifts change significantly. Gifts are still manageable but 5th birthday cake has to be really special....Read More

Shopping for a Valentine's Day gift for your wife can be a lot different, if she is expecting. A new member is joining your family, so it deserves a grander gift than you would otherwise gift. If not grander, it has to be sweeter and thoughtful. The traditional Valentine's Day gifts will not do....Read More

Valentine's Day is just around the corner, and stores are already filled with the gifts. From mugs, cards and teddy bears to other personalized Valentine's Day gift, you will find them all in stores as well as online portals....Read More