Cake Delivery in Bangalore
Cake delivery in Bangalore (the Silicon Valley of India). Enjoy supremely delectable cakes in Bangalore by choosing hassle-free delivery services of MyFlowerTree, an online bakery shop, with midnight and same day delivery.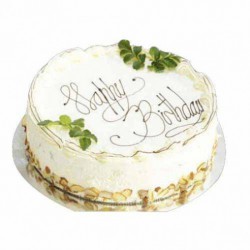 Online Cake Delivery in Bangalore for Any Occasion
Looking for cake delivery in Bangalore - The IT Hub of India ? As Cakes and occasions go hand in hand, deliver Cakes online anywhere in Bangalore for any occasion. Everybody loves them as these indulgent desserts are the perfect complement to every celebration. Lest we forget, cakes have always been an important part of our celebration. Whenever you think about a birthday, an anniversary, or a promotion party, your mind goes straight to what sweet delicacy you'll get to savor. From rich chocolate cakes to immaculate cheese cakes, there are loads of options available to select from and send to Bangalore with our wide assortment of online cakes.
Ordering alphabet cakes, cakes in a jar, designer and customized cakes in Bangalore have become so simple nowadays that all you need to do is select the favorite one from among the numerous cakes to order online. Living in the city, you expect perfect, fresh, and timely online cake delivery, an expectation that we at MyFlowerTree will always fulfill.
Cakes That Will Bring A Smile To Your Face!
We believe that every good occasion becomes even more memorable with the perfect sweet treat, the options of which are abundant at MyFlowerTree. The Theme Cake can add that childhood nostalgia to any birthday celebration; the Love Cup Cakes are perfect to surprise your significant other on Valentine's Day; the Photo Love Chocolate Cake is perfect to add a bit of adventure to a wedding anniversary; and the Mutual Admiration cake is the right choice for Father's Day. No matter what the occasion is, MyFlowerTree is among the best cake shops in Bangalore for fulfilling every whim of your taste buds. Even if you're away from your loved ones and won't be able to make it to a major celebration, you can easily use MyFlowerTree to send cakes to Bangalore for the celebration, from anywhere in the world. Just choose the flavor you know they will love, and send it to them and make them really happy.
Order Cake Online in Bangalore
| Name | Description | Delivery Type | Price |
| --- | --- | --- | --- |
| Red Rose Heart Cake | ½ kg fondant cake with a heart of red roses in the middle | Sameday Delivery | Rs. 1,395 |
| Choco Vanilla Jar | 300 grams of choco-vanilla cake in a jar | Next Day Delivery | Rs. 699 |
| Smartphone Theme Cake | 2 Kg cake in your choice of flavors, shaped like a smartphone | Next Day Delivery | Rs. 3,450 |
| Red Velvet Layer Cake | 1 kg red velvet cake | Next Day Delivery | Rs. 2,195 |
| Cheese Cake | 1 kg eggless cheese cake | Next Day Delivery | Rs. 2,550 |
Online Cake Delivery in Bangalore by MyFlowerTree
Each and every person has a varying taste and preference when it comes to cakes. When you look for customized cakes in Bangalore, it always helps if you know exactly what the person likes and dislikes. Even if you are on the lookout for cakes in Bangalore for an acquaintance or someone you don't know that well, we have you covered! MyFlowerTree has a collection of best cakes, including all-time favorites like chocolate and vanilla, as well as different designer cakes that are themed to suit any occasion. Popular flavors like butterscotch and pineapple, as well as exotic flavors like cheesecakes and a red velvet cake are part of our forte. Whichever flavor you may need while placing an order online, you'll easily find it here.
Best Way To Mark An Occasion Special By Sending Cakes
Every year, we have numerous occasions to celebrate. Sometimes it's a friend's birthday and sometimes it's a wedding anniversary. Apart from these, there are the special days like Father's Day, Mother's Day, Valentine's Day, and so on; and for the days when you want to put in a little extra effort, or for when you can't make it to the celebration, there is the option to order cakes online in Bangalore and have them sent to the special people in your life.
We Provide Midnight Cake Delivery Too!
Whether you want midnight or same day delivery, MyFlowerTree makes ordering cakes online in Bangalore a breezy affair. For metro cities, you can even request a same day cake delivery.You could choose a fixed time slot for delivery to make sure your loved one is home to receive the cake, or you could select midnight cake delivery in Bangalore to ring in the occasion in style.
Avail Fabulous Offers While Ordering Cakes From Us
To sweeten the deal even more, the products available on MyFlowerTree are accompanied by a plethora of offers which we keep running every now and then. Make sure to check out the offers available right here if you're about to order cupcakes, flowers to Bangalore or something else. The best cakes in Bangalore are available right here at MyFlowerTree; order one right now, and let us deliver it with a smile!
Cake Delivery in Bangalore
Products in this category have been rated
4.5
out of
5
based on
145
reviews.
We have a collection of
330
Products
on sale, ranging from INR
345
to INR
4,999